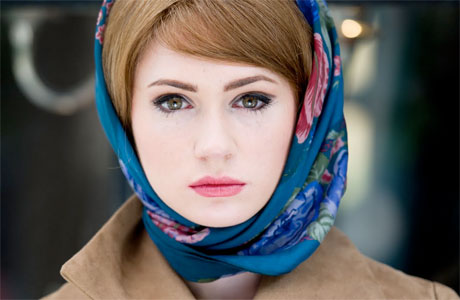 For the next few weeks, we'll be picking through the non-Whovian work of some of the Doctor's very best friends, in much the same way that we did with the actors that played the man himself. And rather than start at the beginning again, we've decided to take a reverse linear approach, to literally go backwards in time, with our list of actors and actresses.
So, having already fairly comprehensively covered Jenna Louise Coleman before she even started work, let's take a look at Karen Gillan's murky TV past, shall we?
We begin in 2006, with the police drama Rebus. Karen plays a schoolgirl, Teri Cotter, who keeps some unsavoury company:
Two years later, she's playing Holly, an aspiring model with an oily sod of an agent, in the medical drama Harley Street:
In fact, 2008 was a busy year, she appeared as Ginny Turner (another model with body issues) in the TV movie Stacked:
And as "Young Girl In The Bus Station" for New Town Killers;
And it was the year of her first Doctor Who appearance, in The Fires of Pompeii:
http://www.youtube.com/watch?v=FcEIZ8YpviY
It was also the year she started working on comedy sketches for Channel 4's The Kevin Bishop Show. They're quite racy:
The following year, Karen took a part in the BBC teen ghost serial The Well:
And in 2010, the year YOU KNOW WHAT happened, she ramped up her Scots accent for Outcast:
It is fair to say things changed dramatically for Karen after that. The next non-Whovian enterprise she embarked upon was playing the '60s model Jean Shrimpton in the BBC's We'll Take Manhattan, earlier this year:
And bringing us up to date, there's the Sky Arts TV movie In Love With Coward, in which Karen plays Laura – the Celia Johnson role – in an embedded version of Brief Encounter.
Of course, as with all of Doctor Who's younger actors, this list is only the foothills of a vast unexplored mountain range of a career to come. Future projects include the romcom Not Another Happy Ending, and a horror film called Oculus (according to Karen's IMDB page, at any rate).
But there's one sad duty she has to perform on-screen first. Her final trip in the TARDIS. *lipwobble*
Read More
Filed Under: