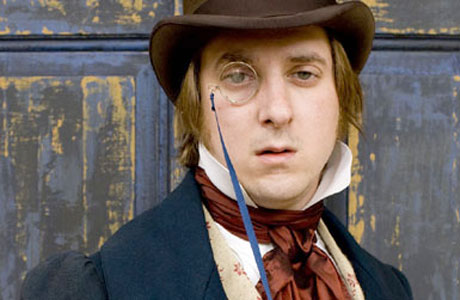 Note: We began investigating this particular feature with such high hopes. Arthur Darvill is a man who clearly has a very bright career ahead of him (he's working on a TV series called Broadchurch right now) and has had a reasonably bright past too.
However, finding proof of his pre-Whovian past in video form is proving to be a massive headache. It is almost as if someone is systematically removing all videos relating to Arthur's past, just to annoy internet historians with a Doctor Who fetish.
I mean it, his turn as Mickey Gallagher of the Blockheads in the fantastic Ian Dury biopic Sex and Drugs and Rock 'n' Roll? Missing. His appearance as Edward 'Tip' Dorrit in the BBC's plush adaptation of Little Dorrit? Hard to find and hidden behind Italian subtitles (you can see him appear and then disappear around the 1:56 mark, and then back again at 4:00):
http://www.youtube.com/watch?v=gl3sUYFCwnk&feature=relmfu
And that's before we even consider his bit parts – the groom in Robin Hood, the policeman in He Kills Coppers – even his stage work appears to be unrecorded for future generations to enjoy.
The only online record of him playing Rex in Swimming with Sharks (alongside one Matt Smith), appears to be this recreation of an onstage moment the pair did at the Doctor Who convention earlier this year:
But otherwise, his stage roles, in such plays as Terre Haute and Stacy remain stubbornly unfindable.
Which makes the easy discovery of my favorite Life Outside The TARDIS-type clip ever, Arthur's appearance with Sooty (unlisted on IMDB, curiously enough) all the more remarkable:
http://www.youtube.com/watch?v=yvjuJmHEPU0
Oh and we did manage to unearth this, from 2010's Pelican Blood:
(And there are more Pelican Blood clips on the  EclecticMuse4 YouTube channel)
Enjoy it while you can, before Arthur is erased from internet history just like Rory was that time. Or, y'know, until something else he's in comes out.
Read More
Filed Under: