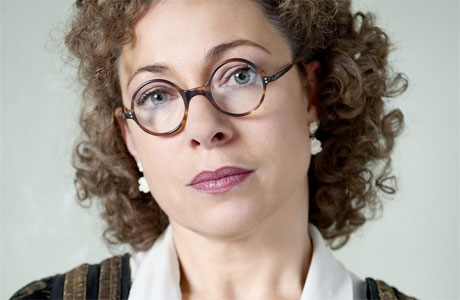 After last week's slightly disappointing (in quantity, rather than quality) YouTube trawl for nuggets of Arthur Darvill excellence, here's a slightly meatier online resume. And with good reason: Alex Kingston has been very, very busy over the last 32 years. This isn't even the half of it.
Let's start at the very beginning, as Mary Poppins would say:
According to IMDB, her first appearance on celluloid was in the 1980 film The Wildcats of St Trinians, in which she played an unnamed schoolgirl. Later that year, she once again portrayed wild youth in the school drama Grange Hill. She's the fighting Judo champ that says "that's not fair miss, he's a blue belt":
Fast forward to 1989, and she's dressed in scarlet, playing the wordless waitress in The Cook, The Thief, His Wife and Her Lover
Three years later, and she's putting herself to good use, elasticating those yokel vowels  in Covington Cross, a kind of budget Merlin, starring the Arthur and Guinevere from Excalibur:
Back on home turf and in her usual time-zone, Alex mades an appearance as Ursula, love interest to one of the Soldier Soldier solders:
http://www.youtube.com/watch?v=L7m_A10bG4A#t=12m42s
Two years later, and she's fighting neo-Nazis in The Infiltrator:
And a year after that, a policewoman and "hard-faced cow" in The Knock:
If any one part could be said to be a precursor to the flirty and naughty River Song, it'll have been this one, her bravura performance in 1996's The Fortunes and Misfortunes of Moll Flanders:
http://www.youtube.com/watch?v=HlvrrHwa8uM
And then, a move to the US in 1997, starting with Weapons of Mass Distraction:
And then some medical drama. A piffling little thing about a Chicago hospital, called, oh what was it now? Oh that's it! ER:
http://www.youtube.com/watch?feature=endscreen&v=sx41IECU0Ts&NR=1
Not that her 12 years aboard the good ship County General meant she didn't keep doing other things, like Without A Trace, or CSI, both of which benefitted from the Kingston touch. Here's a particularly sweary scene from 2000's Essex Boys. Note the use of straight hair? That's range, that is:
And here's our warrior queen as the warrior queen Boudica, in Masterpiece Theater's Boudica: Warrior Queen from 2003:
Sweet Land next, from 2005:
And in 2008, the year ER finished and the year River Song first met the Doctor (in our living rooms at least), she played Mrs Bennet in TV's Lost in Austen:
2009 saw the release of the movie Sordid Things:
And Hope Springs. Don't you just love it when careers rhyme?
Then there were the appearances in Flashforward and Law & Order: Special Victims Unit, a supernatural TV series Marchlands, the movie Like Crazy, Private Practise…we could be here all day.
So let's go out on something prim and saucy, like the great woman herself. Here's a compilation of moments from this year's Upstairs Downstairs:
Read More
Filed Under: