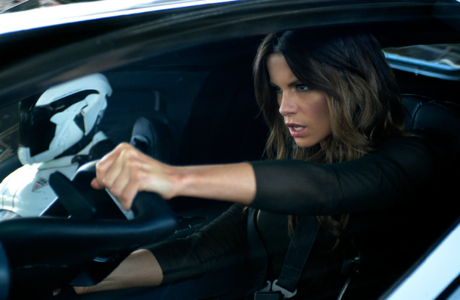 Walk sexy and carry a big gun. That seems to be the mantra of Kate Beckinsale's action babe in Total Recall, a sci-fi thriller that opens today (Friday, August 3).
The British actress stars with Irishman Colin Farrell in the movie, which is a remake of a fondly remembered 1990 film of the same name that starred Sharon Stone and Arnold Schwarzenegger. Recall is based on a short story by science fiction author Philip K. Dick, who also provided the source material for Minority Report (2002) and Blade Runner (1982).
This latest Total Recall is no great shakes. It's long on action but lacks a coherent plot, snappy dialogue and characters with depth any deeper than the water in a plastic blow-up wading pool.
Put it this way: you wouldn't want to have been sitting at the breakfast table at Beckinsale's house – she's married to Total Recall director Len Wiseman – when the reviews came in. To get an idea, just click on the following publications' names to read pans in the New York Times, Chicago Tribune and Entertainment Weekly.
It won't be the couple's first encounter with critical disdain. They've teamed up four times before on the Underworld vampire film series, which is beloved by its fans but fails to score with most major critics. In the series, Beckinsale hisses vampishly and wears snug black latex outfits as Selena, a vampire warrior.
Wiseman and Beckinsale first met when he directed her in the launch film, 2003's Underworld. He also served as director on 2006's Underworld: Evolution, and as a writer and producer on the third and fourth films, 2009's Underworld: Rise of the Lycans and 2012's Underworld: Awakening.
The London-born Beckinsale, 39, has been acting for more than 20 years now. Her breakout role was as Flora Poste in a British television adaptation of Cold Comfort Farm in 1995. She soon followed with a showy part as a bright young thing in The Last Days of Disco, a 1998 film by cult director Whit Stillman. By 2001, Hollywood had come calling and she had the leading female role in Pearl Harbor, a big budget blockbuster costarring Ben Affleck and Josh Hartnett.
In the dozen years since, Beckinsale has alternated between mindless, popular genre fare like the Underworld films, Van Helsing (2004) and Contraband (2012) and better, smaller indie dramas like Laurel Canyon (2002), in which she costarred with fellow Brit Christian Bale, and Snow Angels (2007). Her most prestigious credit to date is playing va-va-voom movie star Ava Gardner opposite Leonardo DiCaprio in The Aviator (2004), director Martin Scorsese's bio pic about wealthy recluse Howard Hughes.
In the Hollywood firmament, Beckinsale is considered a star but not one who, other than in the Underworld series, can open a movie. Total Recall isn't going to change that judgment.
Then again, every actor or actress is just one fabulous role away from an entire reappraisal of his or her career. For Beckinsale, it may be the one in her next movie, The Trials of Cate McCall, which is due out next year. In this indie drama, which costars Nick Nolte, she plays a disgraced attorney who takes on case of a woman wrongly convicted of murder. McCall is written and directed by Karen Moncrieff, whose previous films include the well-regarded Blue Car (2002) and The Dead Girl (2006).
—————————–
What's your favorite Kate Beckinsale movie?
—————————–
Read More
Filed Under: