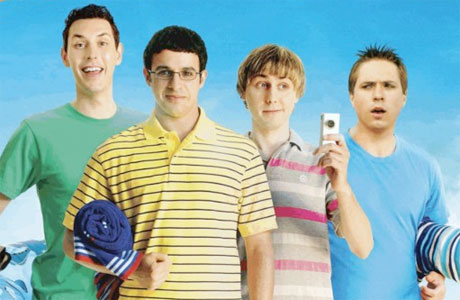 It has long been understood that the story arc of (what we must now refer to as 'the UK version of') The Inbetweeners had reached a natural end point once the end credits rolled on the movie. There is nothing left to say, matters have reached a natural full stop, from which there is no need to embark upon a new sentence.
Well it looks as if that new sentence might be about to commence after all, a state of affairs which may possibly have something to do with the enormous box office success of that movie, although the show's co-writer Damon Beesley claims it's more to do with the on-set camaraderie between the four lead actors (Simon Bird, Joe Thomas, James Buckley and Blake Harrison) and the writers.
He told the Sun: "I don't want to give too much away at this stage but yes, we have been developing an idea for a sequel.
"We miss working with Simon, Joe, James and even Blake too much not to give it a go."
And Damon was backed up by his writing partner Iain Morris, who was approached on Twitter by a fan asking whether the story was true. He replied: "yes, but it's far from signed and like Damon said we want to make sure we have a good enough story to tell."
And Christopher Young, the film's producer has always been fairly firm that any sequel would have to be justified by a decent idea. He told Screen Daily (last year): "if there is a sequel it will come from the creative elements… We've talked about it. In the short term people are dispersing and doing other things but I'm sure in the medium term a sequel is very possible. It won't be immediate, but it's definitely not closed."
Best hurry up, before the cast get too old, mind…
Read More
Filed Under: