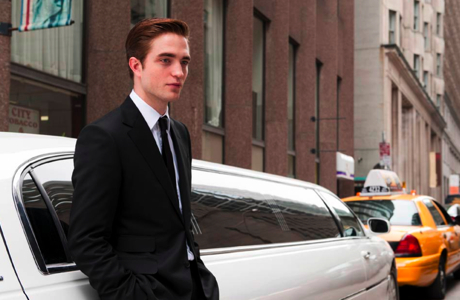 Trying to sink his teeth into a serious role that has nothing to with vampires, Twilight star Robert Pattinson comes a cropper in Cosmopolis.
The new movie, a drama about monetary and societal collapse, depicts a single, hellish day in the life of a mega-rich, young Wall Street mogul. It opens in the U.S. on today (Friday, Aug. 15) after having had its premiere last May at the Cannes Film Festival.
The London-born Pattinson plays the boyish billionaire and spends most of the movie ensconced in a customized, white stretch limousine as it traverses Manhattan. Within its confines, he sequentially meets with a series of advisors as he sinks into an ever-deeper slough of despair. (British actress Samantha Morton turns up briefly as a philosophical monetary consultant who opines, "Money has lost its narrative quality.")
It's an uber-talky marathon with highly stylized dialogue, most of which comes straight from the 2003 novel by Don DeLillo upon which director-screenwriter David Cronenberg (A History of Violence) based the movie. Both the film and Pattinson's performance are relentlessly chilly, making it hard to warm up to either.
Cosmopolis has so far divided critics, though most of the major ones have dissed it. Time's Richard Corliss called it a "vapid, claustrophobic drama." Entertainment Weekly's Owen Gleiberman dismissed it as a "parade of hollow didactic encounters." MSN.com's Glenn Kenny possibly put it best when he wrote, "Cosmopolis is almost certainly some kind of masterpiece, but I have to admit it's probably not for everyone."
The movie is a continuation of Pattinson's attempts to stretch beyond his teen heartthrob image as vampire Edward Cullen in the Twilight series, which now includes four films with the fifth and final entry, The Twilight Saga: Breaking Dawn – Part 2, due Nov. 16.
To date, none of the 26-year-old star's non-Twilight movies have been runaway box office successes. The highest profile entry, 2011's Water for Elephants, a romantic drama which costarred Reese Witherspoon and was based on a popular novel, grossed $117 million worldwide according to the Box Office Mojo website. His other smaller films have had far more modest returns, including Remember Me at $56 million worldwide and the recent Bel Ami at $7 million worldwide.
Pattinson has said he was attracted to the role for the chance to work with Cronenberg in a film that addressed serious philosophical and political ideas. For more on why he jumped at the role and what happened during filming, watch the below interview with Pattinson from Empire.com:
On the plus side for fans who do go see Cosmpolis, Pattinson disrobes several times in the film, revealing a relatively slight frame and a mildly hirsute chest.
On the minus side, in one of those scenes, his character undergoes an extended physical exam in the limousine by a doctor. The exam features an extended probing – off-screen, we just see his face – of RPatz's prostate.
The easy joke, of course, is that that's exactly what many moviegoers will feel they've been subjected to after sitting through Cosmopolis.
—————————-
Is Cosmopolis on your must-see list?
—————————-
Read More
Filed Under: