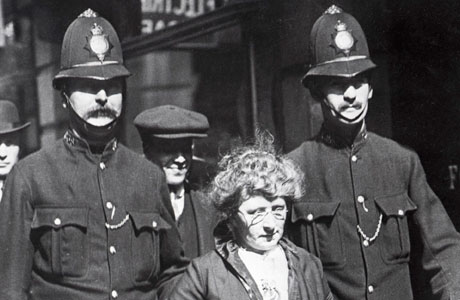 This Sunday (August 19, at 10/9c) sees the premiere of BBC America's hottest new show, the police drama Copper. So, to warm you up for a little bit of 1800s criminal action, here are five songs from the other side of the Atlantic, and the wrong side of the law:
"Police and Thieves" by the Clash
1977 was a tense time in Britain, and even more so in Jamaica, where civil unrest and poor community policing lead to a state of permanent civil unrest between residents, gang members and law enforcement officers. Reggae music was the bush telegraph of the times, and so a song like "Police and Thieves," decrying this low-rent arms race and taking a stand for everyone caught in the middle, was of immense value. Meanwhile, in London, the black communities felt harassed by new laws that allowed the police to stop and search anyone who appeared to be acting suspiciously. Having already witness the Notting Hill riot of 1976 as a result of this, it was only natural for the Clash to cover Junior Murvin, and make the same point again. If both sides are raising the stakes, who's going to protect the people in no-man's land?
"Watching The Detectives" by Elvis Costello
Not so much a song about the police as a song about someone watching someone watching a TV show about the police, and getting vicarious kicks from fake crimes, when they could be getting real kicks from more worthwhile things, like making out. But the tension and revulsion goes so far beyond sexual disappointment it becomes its own crime drama: "She's filing her nails while they're dragging the lake" is not the kind of internal monologue you'd get from most frustrated Casanovas.
"Caught By The Fuzz" by Supergrass
A tale of youthful hi-jinks, in which the very, very young Gaz Coombes was caught smoking pot and hauled off to a police cell. The silver lining, after being bawled out by his mum, being that he got a cracking song out of the experience, so good that it became his band's breakthrough hit. Which is great for him, but as a message to send to impressionable youngsters, bad for society at large.
"Karma Police" by Radiohead
A metaphorical squad poised to arrest anyone committing violent acts against the self-esteem of anyone caught in the spiraling vortex of boring and menial jobs. This is another song of one man's disgust at the kind of meaningless daily distractions that get in the way of proper communication, the white noise of corporate grind that Thom Yorke took to calling "fridge buzz." It's not clear why he imagined a karmic police force to deal with this instead of a spiritual electrician, but that's sensitive artists for you.
"Police On My Back" by Lethal Bizzle
Back to the actual crimes now, and a song with an impeccable pedigree. It was originally a hit for the Equals, the late '60s multiracial rock 'n' soul troupe from North London, and then covered by the Clash on their "Sandinista!" triple album. This was then sampled by the grime MC Lethal Bizzle, who then added the verses about being chased by a police helicopter after abandoning a stolen car (that he stole). And there are members of Babyshambles in the video, just to add extra branches to the family tree. And yes, the best bit IS when he does an impression of his own heartbeat.
What's your favorite British song of crime and punishment? Tell us here:
Read More
Filed Under: