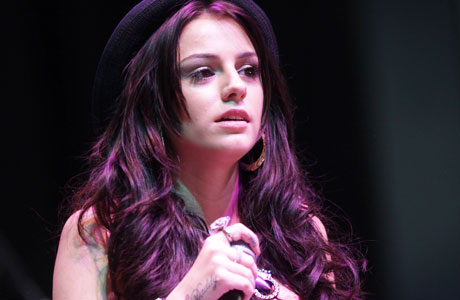 Over the weekend, the singer Cher Lloyd suffered one of the bigger indignities the British festival season can inflict on a performer (and any member of the audience who happens to be in the line of fire) when bottles of urine were thrown her way during a set at the V Festival in Essex. It's a curious way to respond to a performer at a festival, given the extraordinary array of alternative entertainment on offer, and of course it's disgusting. It's a more physical form of web-trolling, using real bodily fluids instead of pretend bile.
For a summary of why bottling a pop star is not quite as righteous an endeavour as it may seem, irrespective of the person on the stage and your feelings about their work, here's an impassioned response from the gossip blog Holy Moly.
Sadly, this isn't the first time a British festival crowd has chosen to vote against someone on the stage, using whatever missiles they can find as ballot paper, and something unspeakable as the pen. Here are five other examples:
Daphne & Celeste (Reading Festival, 2000)
I'm not sure if you had the Daphne & Celeste thing in the US, despite both Daphne and Celeste being American themselves. If not, imagine Alvin and the Chipmunks were real human girls, and performed massively bratty songs based on playground chants and insults. Now imagine they danced all over the boundary line between clever and stupid, and were basically the audio equivalent of those incredibly sweet breakfast cereals kids like. Now take all of this, and put it in front of the Reading Festival audience, who are used to a more sweaty, leathery breakfast and have no tolerance for things which are not rock. Never has the expression "you guys are wasting so much food" been so brilliantly applied.
Good Charlotte (Reading and Leeds, 2003)
Forgive the brevity of this clip, but it does illustrate the level of abuse certain performers face when appearing in front of a crowd that is not theirs. Trying to put a brave face on things, Good Charlotte instructed anyone with a problem and a missile to "boo, hiss and throw some more" on a count of three. Then THAT happened. The band left the stage immediately afterwards.
50 Cent (Reading and Leeds, 2004)
One year later, and the sort-of good-natured to and fro between performer and audience that characterised the Daphne & Celeste situation has taken a more aggressive turn. For starters, there appears to be a LOT more stuff in the air, and while D&C may just have been in on the gag that they were a sorbet to cleanse the palate between meaty rock courses, 50 Cent and G-Unit clearly considered themselves to be the entire feast. How wrong they were.
My Chemical Romance (Download, 2007)
I include this only because it seems Reading and Leeds festival is getting an unfair reputation as being the place where everyone goes to throw stuff at bands. Actually, it is, but so is Download, as this remarkable footage of My Chemical Romance's headline slot shows. This was the year they were touring their breakthrough album "The Black Parade," and thus were at something of a peak in their global popularity. It did not save them.
Panic! At The Disco (Reading and Leeds, 2006)
http://www.youtube.com/watch?v=BiBjzPI-Plw&feature=related
And of course, like any playground pastime (including kiss-chase), it's all good fun until someone gets hurt. In this case, it was Brendon Urie from P!ATD, who appeared during the apex of the great international emo scare of aught-six. Apparently the sight of skinny boys with immaculate hair and guyliner on was so threatening that the only recourse was to commence an arial bombardment of such severity, Brendon was knocked out by a flying bottle of either 7-Up or Lilt (or urine). Rumors that he had actually been overcome by a fit of "the vapors" having overheard a remarkably strong curse word from a man in the audience are thought to be untrue.
And the moral of these stories is: don't mess with Daphne & Celeste, 'k?
Read More
Filed Under: