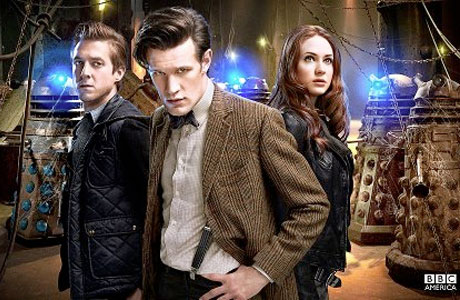 So we're very nearly at the start of Season 7. The trailers have been coming out, there's the Pond Life teaser story arc happening every day this week, there are interviews, quotes, preview showings, new photos (like this one above) and everyone is marking their calendars for this Saturday at 9/8c on BBC AMERICA. It is literally ALL. GO.
Here's just a sample of the colossal excitement tornado that's rampaging across the internet right now, plus other Whovian bits and bobs we've picked up (or made) along the way:
Starting with Pond Life. You'll have seen the first two episodes already, and realized that this is Amy and Rory's view of what it's like to be affiliated to a Time Lord. Here is Steven Moffat and Caro Skinner's "Ask The Execs" interview explaining how the idea came about:
• Caro Skinner has revealed that the axing of Doctor Who Confidential won't mean the end of behind the scenes footage from the making of each episode. She told the Radio Times: "We will be doing lots of content that will be in smaller chunks on the [Doctor Who] site. It won't be related to the Confidential brand because it was a BBC decision to let that go. But we have a team of people on set coming up with some really fun features."
• This weekend's New York City premiere screening of "Asylum of the Daleks" was a rousing success, featuring Matt Smith and Karen Gillan's dramatic arrival not via limousines (how cliché)… but by DELOREANS. Pretty much any self-described nerd can die happy now.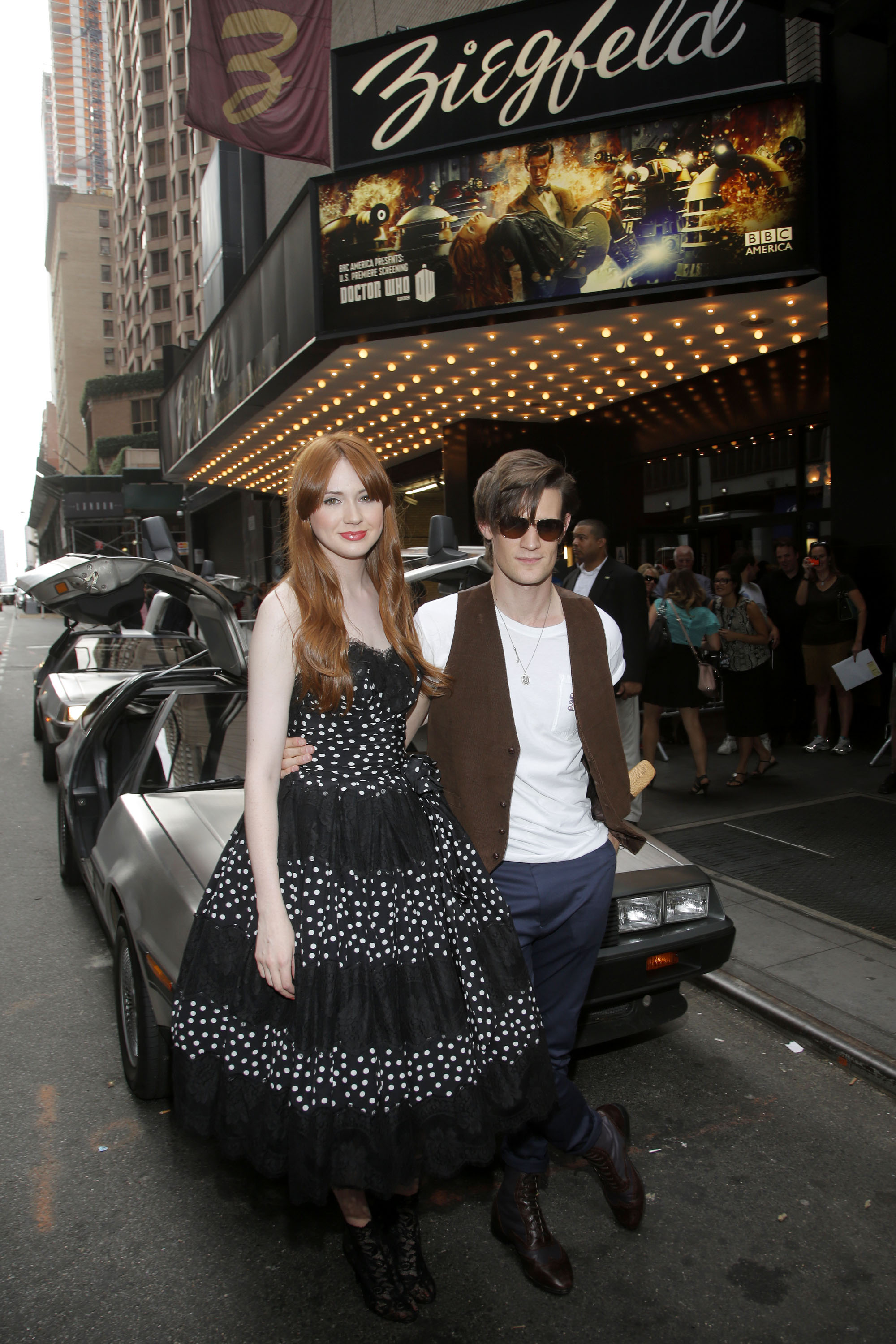 Many fans had queued up for hours and hours to get the first glimpse (on this side of the pond, at least) of the season opener. But dating couple Chris Cabeza and Jacqueline Medina may have been the most dedicated Whovians of them all. When the screening began at 6 pm on Saturday, Chris and Jacqueline had been patiently on line for 18 hours, having arrived at midnight the prior evening. Yet they looked remarkably fresh when we chatted with them. We suppose that Jacqueline's shirt pretty much says it all: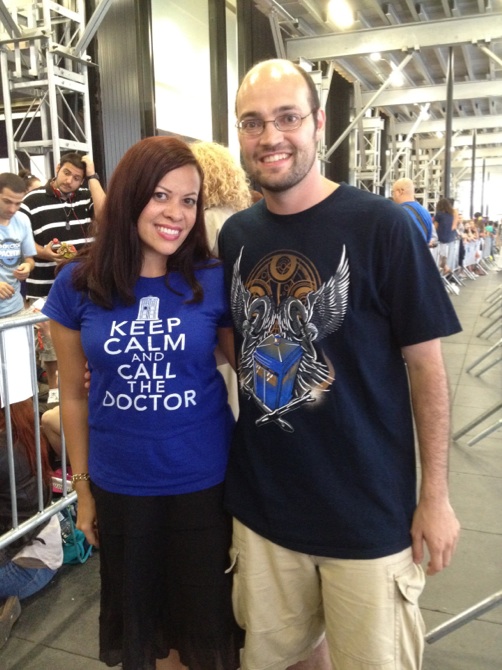 • Nerdist host Chris Hardwick has a very special message to Whovians worldwide.
• We've been compiling #newtoWHO stories from superfans around the web, but BBC AMERICA managed to grab David Tennant to expound upon his own Who deflowering. "I would say to anyone trying to understand Doctor Who," he says. "Just watch one episode. Because when you see it, it just makes perfect and beautiful sense. I'm not going to try and explain it. It just won't sound as good as if you just experience it."
And we encourage you to watch this clip. The above quote doesn't sound as good without David's honeyed Scottish accent:
• Meanwhile, in Life Outside The TARDIS we've been digging up clips of Billie Piper, from her earliest days advertising Smash Hits, to having her own smash hits, to the acting career and beyond.
• Also from the BBC's "Ask the Execs" interviews, Steven Moffat reveals the childhood spark that led to the creation of his Weeping Angels, and of course, the story's creepy:
• It has long been a hotly debated topic among Whovians as to whether the Doctor could, or would ever regenerate into a female Time Lord, given that he's already doing something fairly remarkable by regenerating at all. Steven Moffat, when asked this at the Edinburgh TV festival this week, said he thinks it's not only likely, but in some ways inevitable: "The more often it is talked about, the more likely it is to happen some day I suppose."
• You haven't lived until you've watched the Doctor Who cast AND Steven Moffat play the Skull Game with Nerdist co-host Jonah Ray. Or to be more specific, you haven't lived until you've seen Matt Smith make a human puppet out of a semi-mortified Steven Moffat. Hilaire:
• This weeks rotten apple in the Rogues Gallery barrel is the First Doctor's foe, the Celestial Toymaker. He's an immortal fella with a sideline in being mischievous and setting up rigged games. Quite annoying, in other words.
• This is so cool. A TARDIS wallet made completely out of duct tape! Watch as it's constructed in this time-lapse video via Ducttapestuff:
• But of course, this week's Who's Day is about one thing, and one thing only, the countdown to Saturday night, so let's go out on the latest trail, and we'll see you on the other side!
TTFN
Read More
Filed Under: