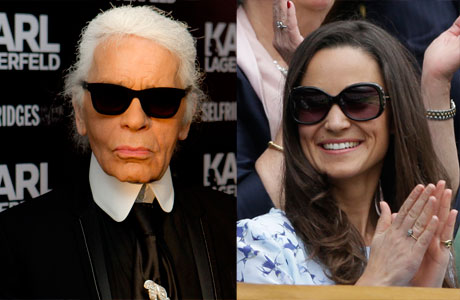 The story so far: Karl Lagerfeld is a man who does stuff with fashion. He appears, from a passing glance at his unique style statements, to be afraid of his own neck, and has a face like a scoop of ice-cream on a hot shoe.
Oh don't worry, he won't mind me saying this about him, after all, his opinions on everyone else are a matter of public record. At the moment, he seems to be very much in favor of Victoria Beckham, for example, because she is thin even after having four children. But not so keen on Adele, because she is fat.
As for the Middleton sisters, he has strictly divergent opinions, despite neither of them being overweight. He's quoted in today's Sun as saying "Kate Middleton has a nice silhouette and she is the right girl for that boy. I like romantic beauties."
All very nice and respectful, you may think. But what's this? Karl has something to add about Pippa, a woman who is only accidentally in the public eye, remember, because she was a bridesmaid at a famous wedding and had to bend over during the TV coverage? Well, OK, what harm could it do?
"On the other hand, her sister struggles. I don't like the sister's face. She should only show her back."
Oh. It's just… I thought you were going to… Oh.
It's not enough for sibling rivalry that Kate married an actual prince, now Pippa, has to be slammed by the head of a fashion empire for having the wrong face?
Christmas dinner at the Middleton house is going to be awkward this year.
Read More
Filed Under: