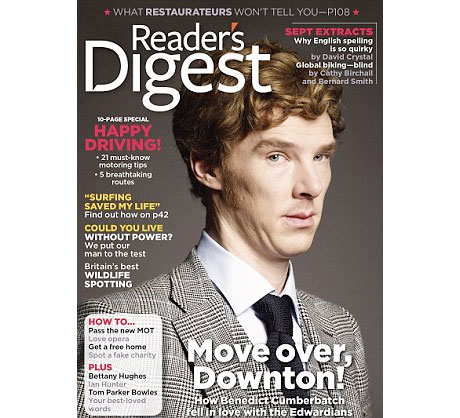 Actually, that's rather an overdramatic headline for today's events. But seeing as you're here, let's press on, shall we?
So, last week, the story broke that Benedict Cumberbatch's interview in the current issue of the Reader's Digest contained a surprising attack at the rank sentimentality of the last series of Downton Abbey, an issue which has so vexed our Benedict that he referred to the whole series has having been "fucking atrocious."
The issue, with his face on the cover next to the headline "Move Over Downton!" is on sale today, and has provoked a mocking reaction from the cast of Downton Abbey themselves. Hugh Bonneville, Dan Stevens and Brendan Coyle have all changed their profile pictures to a scan of the front cover, as a basic, but humorus gesture: "oh YEAH, Sherlock?"
As the issue of costume dramas only came up because Benedict is appearing in the similarly Edwardian Parade's End for the BBC, this is clearly what passes for trash talk among British thespians.
Julian Fellowes, creator of Downton Abbey, has already stated he believes Benedict's words were "taken out of context" in an interview with the Telegraph.
"I have known Ben since he was a little boy and I couldn't be fonder of him. He has turned out to be a marvellous actor and I will certainly watch Parade's End, which has a wonderful cast and, in Tom Stoppard, a brilliant writer.
"I am quite sure what Ben said has been taken out of context and do not at all reflect Ben's real feelings. The popularity of Downton and Ben's series Sherlock, and, hopefully, Parade's End are all part of a surge of interest in television drama which can only be good news for all of us."
When will the madness stop? Oh yeah, Parade's End is on BBC 2 tomorrow night.
Read More
Filed Under: