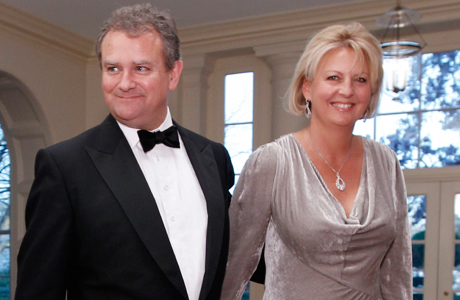 When it comes to the 2012 U.S. presidential election, both candidates appear to be hoping to curry favor with stateside fans of Downton Abbey, the popular, Emmy-winning, British TV series.
Back in March, when President Barack Obama and wife Michelle held a swank dinner at the White House for visiting British Prime Minister David Cameron and his wife, Samantha, the London Evening Standard reported that the celebrity guest list included Downton stars Elizabeth McGovern and Hugh Bonneville, along with their spouses. (Other big names in attendance at the fete included George Clooney, Sir Richard Branson, the British billionaire, and Idris Elba, the London-born star of The Wire and BBC AMERICA's Luther.)
You can take a look at the stars at the White House, beginning at about a minute and a half into this ABC News video report:
Not about to be out-Downton-ed, presumptive Republican presidential candidate Mitt Romney and his wife, Ann, have now declared themselves big fans of the period drama. They did so late last week, while the two were visiting London, when former Daily Mirror editor Piers Morgan interviewed them jointly for his U.S. primetime program, CNN's  Piers Morgan Tonight.
The subject of Downton came up as Morgan spoke briefly one-on-one with Ms. Romney, and she said she couldn't remember the last movie the couple had seen because of the press of campaigning and their often separate schedules.
"Actually, what we do when we're together now, because we're so rarely together, [is] we're trying to get through Season Two of Downton Abbey," she said.
Morgan chimed in, "It's fantastic, isn't it?"
"We love it!" Ms. Romney replied.
Given that both candidates appear to be Downton aficionados, we offer the following proposal: might Maggie Smith, in character as Downton's Dowager Countess, be invited to pose questions to Obama and Romney during a presidential debate? If that won't fly, could the two men at least be asked to go on the record as to their opinions on the entail, whether Lady Mary and Matthew make a good couple, and if scheming Thomas can be redeemed?
—————————————
Which candidate would your rather see in a cameo on Downton Abbey? Playing what role?
—————————————
Read More
Filed Under: