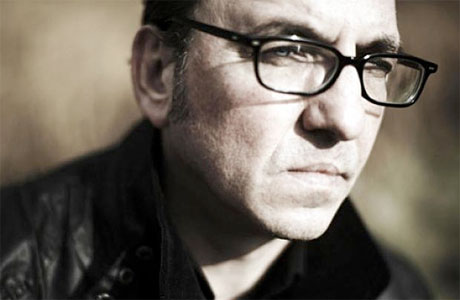 If you've seen the trails across BBC America for the new series Copper, airing Sundays at 10/9c, you'll have heard a song called "Leave Your Body Behind You" by the singer Richard Hawley. If not, here's it is:
So, here are the facts: Richard Hawley is from Sheffield. He's a former member of Britpop also-rans the Longpigs ("She Said"? "On and On"? OK, well let's leave that for now) and Britpop won-by-nine-furlongs Pulp. He also appeared in Jarvis Cocker's band once Pulp had split up. But that's all minor biographical detail. The major delights are to be found in his remarkable solo albums, his depthless croon, his romantic balladry and, more recently, psychedelic guitar squall. That and his delightful quiff.
So here are five of his best songs. Just BECAUSE:
"Tonight The Streets Are Ours"
Pure swooning musical optimism of such heady strength it was used to transform the end credits to Banksy's mockumentary Exit Through The Gift Shop, single-handedly creating a sunset cowboy finale for a baffling expose of an eccentric (and fake) French street artist. Try it on a situation in your own life today! A gruelling commute can be made joyous and romantic! Give your dreary chores a golden halo of wonder! Etc!
"Baby You're My Light"
http://www.youtube.com/watch?v=vbDT_uXsrCU
And when you're done with the fizziness and the glee, here's a song for the afterglow.
"Coles Corner"
A simple, mournful tale of a man out on a date in Sheffield. Coles Corner is the place you'd arrange to meet your prospective sweetheart, if you had managed to chat a girl up (or indeed, had been successfully chatted up). So a common sight on Friday and Saturday nights would be young men, nervously clutching flowers or candy. Of course, not every date has a happy ending, and this languid marvel expresses the loneliness of the jilted lover, wandering the noisy streets alone, having left his flowers in the bin by the bus stop.
"Don't Get Hung Up In Your Soul"
A showcase for that astonishing voice, an exercise in musical restraint (even the musical saw is careful to hide, most of the time), and a song that draws inspiration from a tradition of bruised confessionals that stretches back through Nick Lowe and Johnny Cash to the Everly Brothers. This is the kind of song that should come with a hallmark, certifying it as a precious metal.
"Leave Your Body Behind You"
http://www.youtube.com/watch?v=meGJXhNFxbk
Because you need to hear the whole thing. This year, the balladeering has been put to one side, in favor of the widescreen psychedelia of his album Standing At The Sky's Edge. And having already doled out nutritious treats to bolster optimism, romance and great big manly hugs, this time Richard brings dread in his wake, and the kind of flinty prediction you'd only be able to read from a scuffed old shoe.
Now, go and buy all of his records.
Check out more from the Copper soundtrack.
Read More
Filed Under: