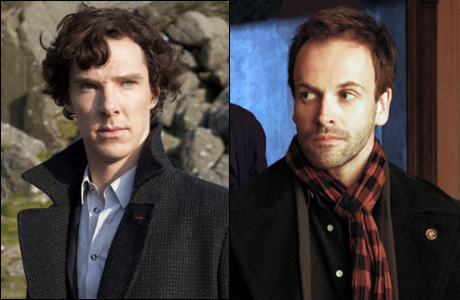 Tip No. 1 when it comes to interviewing Benedict Cumberbatch: dude is giving up nothing when it comes to spoilers about his projects. Shortlist learned this quickly when they chatted with the star about Sherlock's third series and his role in the upcoming Star Trek sequel. When asked if he could field some theories about Holmes' "death" in last season's finale, Cumberbatch replied, "You can, but it will be such a waste of your breath." Oh, we love this guy.
But get him going on rival series, and the deliciously candid quotes roll out like bon bons on Lucy Ricardo's conveyor belt. (Take his earlier remarks about Downton Abbey's second season.) This time, he weighs in on the latest modernized take on Arthur Conan Doyle's detective, CBS' fall series Elementary, which stars Benedict's pal and Frankenstein co-star Jonny Lee Miller.
He tells Shortlist: "Jonny [Lee Miller] asked me if I was all right with him doing it. I said, 'What are the similarities?' And he went, 'Well it's modern…' I went, 'Oh.' Then he said, 'Lucy Liu's going to play Joan Watson…' And I went, 'Oh.' I got hold of the pilot script just to check it out. I don't know, we'll see. I think there's room for us both to coexist. I don't feel threatened by it and I wish him the best, which is as diplomatic as I can be."
He continues: "It's very odd. I did say, 'Well, I'd prefer you didn't do it but you've got a kid to feed, a nice house in LA and a wife to keep in good clothes.' When you get used to a certain standard of living and they waft a pay check at you, what are you going to do? I think Jonny was like, 'Mate, I've got the f***ing mountain to climb here [to reach the acclaim of Sherlock], you've got nothing to fear.' I wish him the best of luck, but I'm a bit cynical about why they've chosen to do it and why they cast him."
In other news, here's a clip of Cumberbatch and Rebecca Hall in the miniseries Parade's End, currently airing in the UK. Cumberbatch's voice is quite the instrument.
What do you think of Cumberbatch's comments? Will you watch Elementary? Tell us below:
Read More
Filed Under: