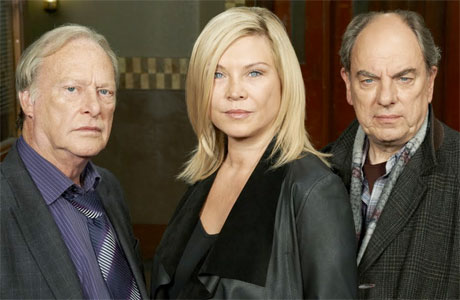 Remember the scene in Friends, years ago, where the character Joey gives a self-aggrandising interview to a magazine about his role in Days Of Our Lives, and how he often likes to improvise new ideas for the script, to help the writers out. And remember how well that went down with the writers, and what they did to his character Dr Drake Ramoray?
Well it seems the cast of the hit British crime drama New Tricks have failed to learn the valuable lesson from this fake situation, namely do not annoy the people whose job it is to put words in your mouth.
Amanda Redman, Dennis Waterman and Alun Armstrong were interviewed for this week's Radio Times, and talk turned to the quality of the scripts for their ninth series, something they feel has been slipping recently.
Amanda lead the charge, saying: "It's more bland now. The characters are not being as anarchic as they used to be, which I think is a shame."
Alun added: "My character has got saner. Which I'm not enamoured with. And it's about time Amanda's character got her leg over."
At which point, the bullish Dennis piled in, ""We're always talking about history and some writers – not all of them – can go on and on, repeating themselves.
"You have to remind yourself that people aren't as stupid as writers think. But that's the way things are going in the industry. Basically, we all want to move to Copenhagen [home of quality Danish crime dramas like Borgen and The Killing] to get to do some really extraordinary television."
And they're pretty sure who does most of the work when it comes to making the show work properly, too, as Alun explained:
"If we felt that a story didn't work, or that bits of the story could be improved, then – if the writer wasn't around – we would set about rewriting it ourselves."
"We have never tolerated anybody – and we've had the odd one – who will come on to the set and say, 'You will do this' or 'You won't say that. They get short shrift and there's an almighty battle until they're forced to collaborate."
Amanda added, "It's not that we bully directors, but in any creative process, it has to be collaborative."
Fighting words, arrogant words, and definitely the kind of words the writers of the New Tricks (which won the 2007 Writer's Guild award) aren't taking lying down. Julian Simpson, writer and director for the show, took to his Twitter feed to explain how this collaborative work ethic pans out on scripts he has written:
"A New Tricks I wrote and directed airs on Monday. I can tell you EXACTLY how much of it the actors wrote: not a comma. The following week, Sarah Pinborough's episode is on. I directed that too. Cast contribution to script? Big fat zero. I was going to be writing today, instead I'm just going to hand the actors a pad and pen. I wish I'd learned this 15 years ago."
He concluded with the half-jocular, half-menacing thought: "Worth saying that I get on phenomenally well with the New Tricks cast. Just don't appreciate actors speaking out of turn and they know that."
The Writer's Guild of Great Britain, who gave the show its award, has been even more firm in its response. General secretary Bernie Corbett said: "It is astonishing and deeply disappointing to hear this from rich and famous celebrities who owe their careers to the scripts they have interpreted, as much as to their own talents."
"Waterman and his co-stars have had decades of success on the back of UK scriptwriters. We regret their imminent departure, but we wish them every success in the state of Denmark, and hope that if they find anything rotten they'll acknowledge their own responsibility for it."
See that? A Hamlet reference? That's a proper writer for you.
Read More
Filed Under: