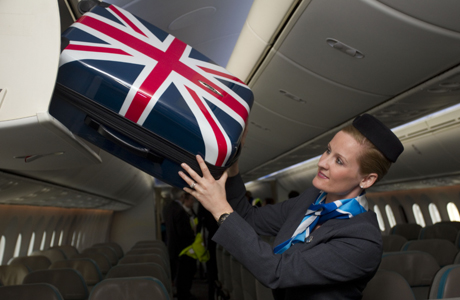 Airfares have shot up in recent years, largely because of increased taxes and fuel charges. We are all feeling the impact of the recession and want to save money. So the pressure is more intense than ever to find the cheapest flights between the U.K. and U.S.
A dozen scheduled airlines fly to the U.S. from the U.K. They are your targets and your benchmarks. But many variables affect airline ticket prices, from landing fees to booking flows, pension costs to lawsuits, so the fares change constantly (sometimes hourly). It's a jigsaw puzzle tossed into the middle of a minefield, so here are 10 Ways to Beat the System:
1. Be flexible.
Fly when no one else wants to – or, at least, avoid peak times. Easter, Christmas and New Year are expensive on both sides of the Atlantic. Other major U.S. holidays increase the cost of tickets: Thanksgiving, Memorial Day, Labor Day and the Fourth of July. Just as U.K. airports are packed on the last weekend in July, immediately after the school summer holidays begin, study U.S. school schedules too. Flight prices immediately before or after a big period may be cheaper. Some international carriers typically offer cheap transatlantic flights in the days after Christmas and after the New Year.
2. If you have frequently flying friends, ask if they will sell you some of their air miles.
You'll have to do the sums, but you should be able to save money – and it will mean cash in hand for your friend.
3. Avoid high street or telephone travel agents.
Nowadays, thanks to the internet, they probably won't know much more than you and they may try to guide you to the deal that pays them more rather than costs you less. But it costs nothing to ask for a quote, so you could use them to give you an introduction – then tell them you'll think about it. Best online agents are Trailfinders, Expedia, Orbitz, Travelocity, and Netflights. STA Travel can be helpful for students, teachers and adults under 26. Check the Charter Flight Centre. It has only a limited range of destinations, but you might strike lucky.

4. Try to buy either 22 weeks before your planned departure date, or three weeks before.
The early date should give you most choice, but the later one is the period of maximum uncertainty for the airlines, when they are trying to guess whether they need to cut fares to fill the plane. The strategy can work against you if it is a really popular flight – but see tip number one above.
5. Mid-week flights are often cheaper than weekend flights.
Note that airlines are increasingly tough about their definition of mid-week: Wednesday certainly, Tuesday and Thursday maybe. Monday or Friday — forget it. Night flights can save you money and maybe a night at a hotel, but study the timings so you don't have to fork out for a hotel room near the airport.
6. As a rule, use large airports.
However, some secondary airports – like Newark (NJ) instead of LaGuardia or JFK (NYC) – can be cheaper because they want the business. If you are flying to London, check the "London, All Airports" button in case of special deals at Stansted or Gatwick. Glasgow and Edinburgh often compete, too.
7. Try to fly out of a U.S. airline's hub airports.
These are where they have the biggest overheads, so they want the traffic. For example, American Airlines has hubs at Dallas-Fort Worth (DFW), St. Louis (STL), Miami (MIA) and Chicago-O'Hare (ORD), Delta at Atlanta (ATL), Cincinnati (CVG), New York (JFK) and Salt Lake City (SLC).
8. Look at other routes with one or two stops.
Going through a hub can mean changing planes, but the airlines will often reward you for that inconvenience as it makes more seats available on the prized non-stop flights.
9. Check add-on fees for bags, meals, pillows, blankets.
Nothing is for nothing now, and the airlines are constantly testing what passengers will tolerate. Online bookers use tell-tale small print like "baggage fee information."
10. Once you have bought your tickets, don't change them.
Airlines see this as a major opportunity to rake in profits, because passengers who want to switch usually have no choice and therefore no bargaining power.
Tell us about your cheapest flight to the U.K.!
Read More
Filed Under: