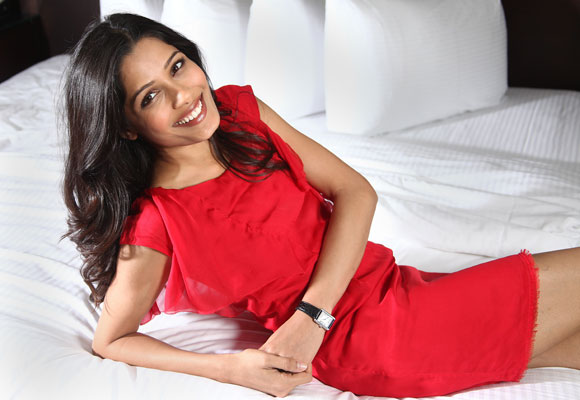 Since gaining worldwide fame from Slumdog Millionaire, Indian actress Freida Pinto has had several roles – but none quite so big as in her latest picture, Trishna (out July 13).
The film itself is a modest art-house endeavor, but for Pinto, it was a major undertaking. The actress is starring in a picture where most of the dialogue is improvised and she's on screen most of the time. It was a lot of work. She says: "It was me coming to set every single day and performing every single day, and I didn't really have that opportunity on every other film that I did, until this film."
Trishna, directed by Britain's Michael Winterbottom, is the story of a young woman from rural India who's serenaded and seduced by a wealthy hotel owner's son played by Riz Ahmed. It's an adaptation of British author Thomas Hardy's 1891 novel Tess of the d'Urbervilles transposed to India today.
The film is a good showcase for Pinto but it's not going to reach a mass audience.
But at least it's a picture that relies heavily on her talents.
In last year's Hollywood movie Rise of the Planet of the Apes, she seemed severely underused.
She's enjoyed success since Slumdog Millionaire but some of her fans think she should be getting bigger, more high profile acting jobs.
She says, "I'm not gunning for big roles per se in general. For me, it is more about on getting a role, even if it's a small role in a big film or a small role in a small film, but it makes sense for me to be as part of that project as opposed to just being a showpiece."
Read More
Filed Under: