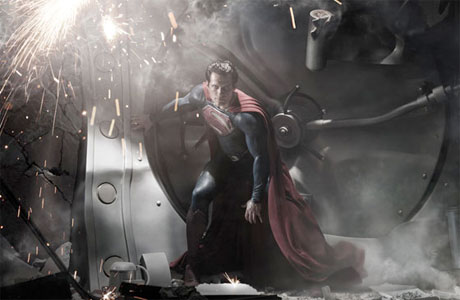 I know, how fickle can you get? We've just delivered one Brit-helmed American superhero classic to the movie theaters (The Amazing Spiderman), then another one arrives in the shape of The Dark Knight Rises, and before the wind can leave Batman's cape we're off to the third.
This time it's Henry Cavill donning the big boots and American accent as Superman/Clark Kent in Zack Snyder's Man of Steel, the first trailers for which hit the internet over the weekend.
http://www.youtube.com/watch?v=6jKWJZsjm5U
Yep, that's Kevin Costner's voice. He's playing Clark Kent's adoptive father Jonathan.
Here's the same trailer again, this time with a voiceover from Russell Crowe, who takes the Marlon Brando role as Superman's birth father Jor-El.
Muppet fans will be delighted to learn that the effervescent Amy Adams is playing Lois Lane, with Michael Shannon playing  General Zod, the all-round rogue and general sod.
The good news for the other two movies is that this isn't due for offical release until June 2013, so we've time to recharge our awe-ducts.
Yes? No? Tell us here:
Read More
Filed Under: