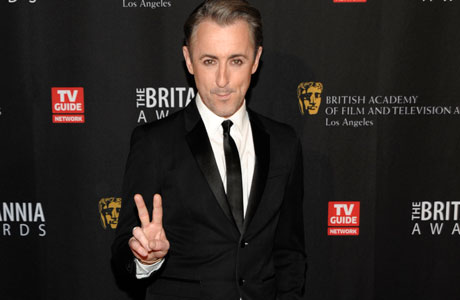 Alan Cumming is in the midst of a daring feat on the New York stage: playing every role in a new adaptation of Shakespeare's Macbeth.
It's a real test of endurance. He says it's been "the biggest challenge I've ever had to face in my life." He adds: "It's so difficult – it's traumatic and distressing and upsetting for the audience as well as me."
The play is set in a psychiatric ward where Cumming portrays a patient possessed by every character in Macbeth. It's a concept designed to present Shakespeare's work in a new light.  Cumming says: "People have said that this interpretation makes you understand the loneliness of Macbeth and you are more sympathetic to him as someone who has pushed everyone away – and he ends up a very, very lonely sad man. Also you know, a tyrant and a killer."
It may be Alan Cumming's show but he's been supported behind the scenes by co-directors John Tiffany and Andrew Goldberg. They're impressed by Cumming's dedication to getting his performance just right. Tiffany took notice of his line learning of the whole Shakespeare play. "That's been an Olympic feat for him. He says himself he's lived like a monk. Every break time, every lunchtime, every evening he's just been learning lines."
The play had strong reviews when it played in Scotland last month for a brief run before arriving in New York. So far American audiences have been impressed – viewing Alan Cumming's performance in extremely positive terms – although one theatergoer thought it self-indulgent.
But overall Alan Cumming is receiving nothing but praise – good news for the actor whose first professional theatre job twenty-seven years ago was playing just one role in Macbeth.
 (Macbeth will be playing at the Rose Theater in the Time Warner Center until July 14)                  
Read More
Filed Under: