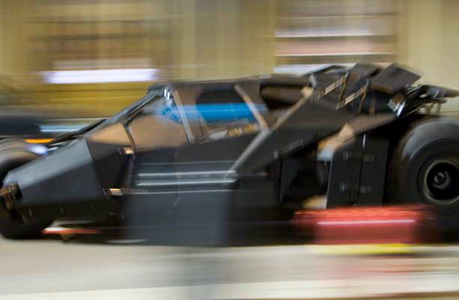 The Dark Knight Rises opens next week, and the folks at TopGear.com dug up some interesting facts about the cars in the movie.
Christian Bale, as Bruce Wayne, drives the new Lamborghini Aventador.
Director Christopher Nolan and his production designer Nathan Crowley designed the Batmobile, aka "The Tumbler," themselves, working in a garage in Los Angeles. They built a model by mixing parts from various toy cars, but also kept military vehicles in mind as inspirations. In the end, Batmobile is sort of a combination of a Hummer and a Lamborghini and it was built entirely from scratch, with no existing car underneath its exterior. It weighs two-and-a-half tons, goes from zero to 60 in five seconds (with a maximum speed of 105 mph) and it has no front axle. But it runs on regular unleaded gasoline.
• On next week's recently-rediscovered episode of Top Gear, Jeremy Clarkson compares the Subaru Impreza STi and the Mitsubishi Evo VIII. And as he points out that both cars are much better on actual roads, in this case the roads of Scotland, than expensive sports cars like Porsches or Ferraris, the metaphors and similes are flying. They're both "as reliable as a Swiss bus driver's Austrian pacemaker," says Jezza. The Subaru is "less of a car and more of a barroom brawler." The previous incarnation of the Evo was "like a Mafia hit man without the compassion."
But no matter how young and boyish our hosts may look in these rediscovered treasures, their hatred of caravans, or, to us Yanks, towable trailers, emerges fully developed. In the episode, the challenge to break the world's speed record for a caravan is given to James May.
Here's a typically Top Gear-style second attempt:
The third time isn't always the charm:
The Star in a Reasonably Price Car segment on next week's episode offers a glimpse into television history. The guest is the late Richard Whiteley, British television personality, who died in 2005. Whiteley was host of the hugely popular television game show Countdown, whose fans included both the Queen and Queen Mother. He was awarded an OBE in 2004.  As you'll see from the clip below, he made Top Gear history, but he was responsible for other milestones in British TV history. He was famous for being the first person shown on Channel 4 when it went on air in 1982 and also for being bitten by a ferret on live TV. In an interview with the Yorkshire Post just a month before his death, he said: "When I die I know that the Yorkshire Post will report 'Ferret Man Dies'" – that's according to his Yorkshire Post obituary, headlined, "Richard Whiteley: I'll bet they'll report 'ferret man dies'". At the time of his death, he was also believed by many to have been the most-viewed face on British television.
• Top Gear US got things rollin' this week… at Rollin Valley Farms, a dairy farm near Fresno, California. The hosts and crew were there, reported the Fresno Bee, to film a segment for the next season of the American version of Top Gear. There was an obstacle course and a tractor drag race, and the hosts also took on challenges as cowhands, using farm vehicles. The show apparently brought super-sized tractors to the farm, which is home to 1,800 cows.
There's no video of the dairy farm expedition yet, but Top Gear US posted this web exclusive of host Rutledge Wood sitting around with some cowboys in Moab, Utah:
Read More
Filed Under: