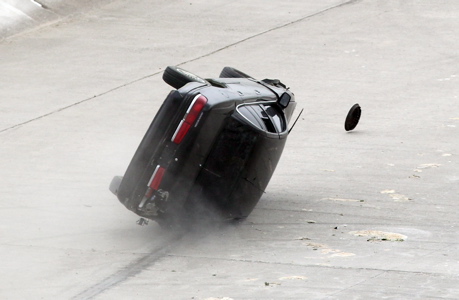 Richard Hammond flipped his car over twice, jumped from a bridge and set himself on fire.
Yup, that's just part of the routine in the filming of the second season of Crash Course.
As part of his attempt to do the job of a Hollywood stunt driver, the Hamster drove a car which he rolled over in the air not once but twice. He climbed out of the car – unharmed – after it landed upside down on its roof.
He was also covered in fire-resistant liquid and set ablaze.
"Back from today's Beverly Hills run," Hammond wrote on Twitter. "No tweet-fest from me today; gotta go fall off a bridge. Weird welcome in LA: thrown thru window yesterday." (via The Daily Mail)
• If Top Gear ever gets too expensive to produce, the BBC may want to think about going smaller – and plastic – as a solution.
This week, some fans posted a Lego Top Gear episode. They even included a car ad in the show. So what if they mispronounce the name Lamborghini?
Next time, however, we'd like to see fireballs, to bring about the kind of plastic meltdown that Top Gear levels of destruction call for.
It turns out, however, that last week was by no means the first time that Top Gear has been combined with Lego. There is, in fact, a long tradition of Lego-inspired Top Gear videos.
Here's a Lego rendering of Top Gear's train crash episode, using actual audio from the show.
Here's another auteur's attempt at the exact same Top Gear moment.
Film school students: feel free to compare and contrast the above two efforts in the comments section below this blog post.
Here's another Lego tribute from a few years back:
A Lego version of Jeremy Clarkson rolling over the Reliant Robin:
And finally, another parody:
• You know that next week's Top Gear lost episode (premiering Monday, July 23, 9p/6c) is an historical artifact. You might even need a viewer's guide to give you some background so you can understand what life was like back at the beginning of this century. For example, the following clip is dependent on knowing about a long-forgotten piece of machinery known as a fax machine. You can look it up on Wikipedia, but let's just say that it's basically like a Star Trek transporter machine that uses pieces of paper.
"Is this the most boring supercar in the world?" asks Jeremy Clarkson as he tests the Swedish Koenigsegg, a Scandinavian attempt to challenge Italy's supremacy in the area of super-speed. The answer may surprise you.
Richard Hammond takes out a Renault for a test drive…and a test crash.
Next week's Star in a Reasonably Priced Car is actor Neil Morrissey, best known for his role in Men Behaving Badly. Here he behaves well with Jeremy.
Read More
Filed Under: