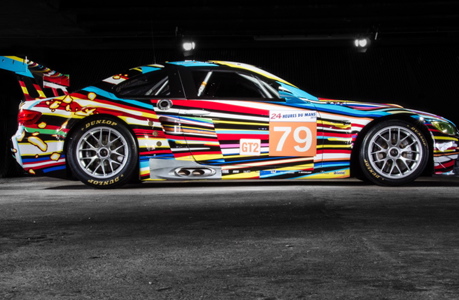 London's Institute of Contemporary Arts is closed for the Olympics – but the ICA is taking over a parking garage for a very special exhibit about cars.
For two weeks, ART DRIVE! – a collection of BMW "art cars" will be housed in what the ICA calls "the brutalist Shoreditch landmark," otherwise known as the Great Eastern Street Car Park.
BMW's Art Car project was started by race car driver and auctioneer Herve Poulain in 1975 and the collection contains cars modified by artists including Andy Warhol, David Hockney, Roy Lichtenstein, Jenny Holzer, Frank Stella and Jeff Koons.
TopGear.com points out that it's "an amazingly rare opportunity to see the collection in one space in the UK."
"If you can't make it to the Great Eastern Street NCP by the 4th of August," they continued, "don't worry. We've been and taken pictures so you can enjoy the cars from your own home with a packet of Chessy Puffs."
But Top Gear warns that its photo gallery "contains quotes from artists" so you should  "strap on your brain." You were warned.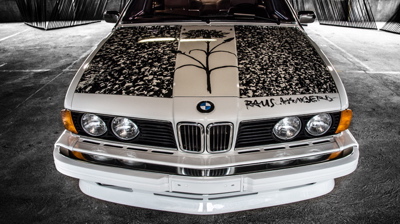 TopGear.com also used the special exhibit, part of London 2012, as an opportunity remind us of the artistic efforts of post-modernists Jeremy Clarkson, James May and Richard Hammond.
• In this week's lost Top Gear episode (premiering Monday, July 30, 9p/8c) Richard and James test drive convertibles in England's countryside.
Jeremy pits an Alfa against, improbably, a Ford Focus and a VW Golf.
This week's Star in a Reasonably Priced Car is supermodel Jodie Kidd, whose reasonably priced car should also be reasonably sized – because she's 6-feet 2-inches tall.
• Now you can at last see the declassified Top Gear version of Escape from Colditz, the real-life World War II story of British POW's who broke out of the notorious Nazi prison – a camp set up especially for those who had escaped from other prisons. The true story inspired books, movies and even a board game – and in this outtake from Season 15,  a Top Gear segment. Each of the guys is given exactly three gallons of gas to get from Colditz to the Polish border.
Intermission. Here's the second and final part.
• For those of you who like speed – and who doesn't? – we've got this exclusive clip from Top Gear. John McGuinness takes Top Gear's Piers Ward on a high speed drive on the Isle of Man. The footage, however, is taken from a pillion, which is a side-car attached to a motorcycle. You might want to buckle up now.
• Amy Macdonald has met with considerable success as a singer, and she's about to embark on another UK tour next month.
But what is she really excited about? Being a guest on Top Gear.
She was recently on a radio show in Scotland and said how much she'd like to go on the show.
"Jeremy sent a text straight back saying 'Absolutely – I could go on the show' so I think that's it sorted now," Macdonald said, according to Scotland's Daily Record. "It looks like I'm in there, finally."
The singer said of Clarkson: "I don't think he'll be scared I'll take his job. For him it's probably just good to have someone on who is passionate about cars for a change."
MacDonald is indeed passionate about cars, and owns lots of them, including a £170,000 Ferrari 458, Audi R8, and Audi Q7.
But what she's really wanted was to be invited on Top Gear.
"I love Top Gear. It's my favorite show and I want to go on it," she said back in 2010. "I've asked them a few times but they think Cameron Diaz and Tom bloody Cruise are better than me. I quite like Jeremy Clarkson. I like all of them, including James May, Captain Slow."
• Top Gear UK attended last weekend's Silverstone Classic, which it calls "a motorsport-infused celebration of all things old and magnificent." The event established a world record in honor of the Queen's 60 years on the throne – 60 Ferrari F40s took to the track at once.
• And finally an update on the dispute between family members of the car designer Carroll Shelby, who died on May 10 at the age of 89. As we reported a few weeks back, Shelby's body has remained in the Dallas morgue because his children and wife disagreed over whether it should be buried or cremated.
On Monday, the Associated Press reported that family members had reached a settlement that would avert a civil trial that had been scheduled to start today (Thursday, July 26). The agreement calls for Shelby's body to be cremated, with the ashes divided into five parts. Shelby's widow, Cleo, is said to be getting two of the shares.
Read More
Filed Under: