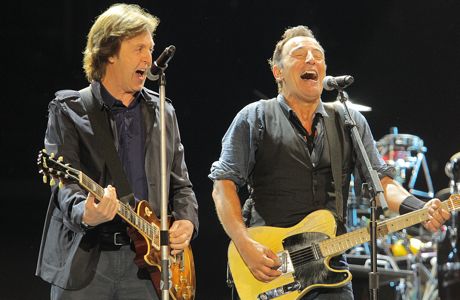 Perhaps Paul McCartney should be used to having the plug pulled on his concerts by now. After all, the Beatles' last public appearance, captured in the movie Let It Be, was a 1969 rooftop performance that was shut down by police who said it was a creating a nuisance.
McCartney had another historic musical moment cut short the other night in London. He had joined Bruce Springsteen for an impromptu series of duets at the end of a three-hour concert the Boss was giving in London's Hyde Park.  Springsteen had already gone over his 10:30 p.m. time limit when he invited Sir Paul to join him onstage. The two undisputed rock legends sang Beatles hits "I Saw Her Standing There" and "Twist and Shout."
But the concert's producers, Live Nation, turned off the microphones and audio before the end, because the concert violated the "sound curfew" for the neighborhood.  Spokespersons later said that they had no choice because they were contractually obligated to observe the curfew "in the interest of the public's health and safety."
Steven Van Zandt, the famous guitarist in Springsteen's E-Street Band used tweets to protest.
"One of the great gigs ever in my opinion. But seriously, when did England become a police state?" he asked. "English cops may be the only individuals left on earth that wouldn't want to hear one more from Bruce Springsteen and Paul McCartney!"
http://www.youtube.com/watch?v=XO5wYdX28JM
Today, Van Zandt offered an apology to the police after he found out that they weren't the ones who shut off the sound.
"Maybe I was a little bit too tough on the police," he said in Dublin, where he was doing his weekly two-hour radio show. "I think I should apologize about that and I think I will because I'm not sure who pulled the plug," he said with a smile. "It may not have been the police."
"We don't intend to break curfews. We just always do," Van Zandt said, according to the Irish Times.
Even Boris Johnson, the mayor of London, thought the duo should have been allowed to rock on.
"It sounds to me like an excessively efficacious decision," Johnson said on a London radio show. "You won't get that during the Olympics. If they'd have called me, my answer would have been for them to jam in the name of the Lord!"
The Daily Mail bemoaned that Britain would now look like a "nation of killjoys" because of "tedious, mind-numbingly dumb British officialdom."
Even Forbes, which could easily have been more partial to the concerns of the wealthy folks who live in the neighborhood, saw it as an unnecessarily strict adherence to a rule – and the magazine wondered why no one worries when rules aren't followed in London's financial world.
"How is it that those in power always seem to find ways to short circuit the fun in our lives but never quite seem to figure out how to curtail the harm?" asked the magazine. "The music can't run ten minutes late. Financial fraud runs amok for years."
Read More
Filed Under: