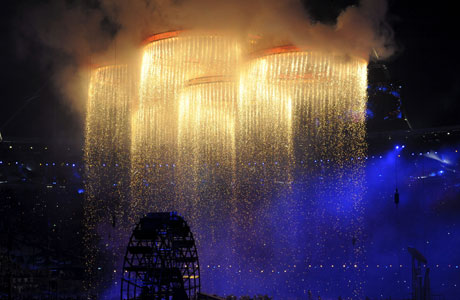 Note: please don't read this unless you're sure you don't want to see the opening ceremony in full, we'd hate to ruin the surprises in store. Coverage of the Games in the UK began with a segment featuring Benedict Cumberbatch, who served as a guide through London's tormented history to the city it has become today:
Now on to the ceremony itself: we begin with Elgar's "Nimrod," soundtracking a village green scene, complete with maypole, ferris wheel and fake Glastonbuy Tor. There's a little smidge of the Radio 4 shipping forecast (a beloved moment of British broadcasting) and a fake sea, made with blue material stretched over sections of the audience.
That's just the preamble… before you know it we're hurtling down the river Thames, from its source, past Mole and Ratty from the Wind in the Willows, past the British sporting heroes of the past, whether playing cricket or rowing, and down the Thames to a fragmentary soundtrack of Andrew Lloyd Webber's "Variations," the Sex Pistols' "God Save The Queen," and others, before the final countdown, courtesy of Underworld.
Then Bradley Wiggins, Britain's first winner of the Tour De France (and a proper mod geezer) rings the Olympic bell. A choirboy sings "Jerusalem" and the village (which looks uncannily like The Shire, Lord of the Rings fans) comes to life. Beekeepers attend to their bees, while over in Northern Ireland a choir has a bash at "Danny Boy" (probably in honor of the show's director Danny Boyle… probably not),
Then it's "Flower of Scotland" and "Guide Me Oh Thou Great Redeemer" from Scotland and Wales, respectively, while Kenneth Branagh (or someone who looks a lot like him) brings the Industrial Revolution to the Shire in the form of Isambard Kingdom Brunel. A mixed blessing, then.
Oh no, it IS Kenneth Branagh, with a quote from Shakespeare's The Tempest. Suddenly the big tree on the hill has lifted up and the workers have come out of their warren. It's all very Power to the People so far. And there's industrialists in top hats dancing and supervising the removal of the Shire, to be replaced with what William Blake would call "dark Satanic mills," some massive smoking chimney stacks.
Then on come the Suffragettes, and there's a tribute paid to British dead from two world wars. By now the Shire has all but vanished. Then on come Sgt Pepper's Lonely Hearts Club band, the pearly kings and queens of London, and the Windrush generation (black immigrants from Jamaica), and we're forging rings of pure iron. I bet you can guess how many.
Kenneth looks pleased, even when the rings leak molten metal down on everyone and they all die.
Oh they didn't die. Now everyone is clapping the rings. And there's some footage of James Bond arriving at Buckingham Palace for an audience with THE ACTUAL QUEEN!
*ghast, flabbered*
And they're off in a helicopter together, over London, to the Olympic Stadium, where THE ACTUAL QUEEN has parachuted in. No, really!
And then THE ACTUAL QUEEN takes to her seat, alongside Prince Philip, and a version of the National Anthem by a choir of deaf and signing children. We're only half an hour in. What is going to happen next?
Well, there's "Tubular Bells," performed by Mike Oldfield and the patients and staff of Great Ormond Street hospital (hence the initials 'GOSH'), as a tribute to the NHS. Then we're off into the glory of British children's literature, from Peter Pan to Harry Potter (there's a massive firework-spewing Voldemort), Alice in Wonderland to 101 Dalmations, Chitty Chitty Bang Bang and the massed ranks of a hundred Mary Poppinses. Then there's a massive baby in a bed.
Then we're off to the movies, with the London Symphony Orchestra, conducted by Simon Rattle, performing Chariots of Fire, with Mr. Bean (Rowan Atkinson) on lead keyboards. No, really! Then there's a mini, and we're celebrating British gadgetry in general, and TV and music in particular.
I can't do the full list, but it's something like: The Clash, Rizzle Kicks, the Jam, Eric Clapton, Gregory's Girl, the Who, the Stones, Millie (who sang "My Boy Lollipop"), the Kinks, the Beatles, Kes, A Matter of Life and Death, Mud, Led Zeppelin, the Specials, David Bowie (cue flying spacemen), Queen (massed Freddies), the Sex Pistols (astonishing pogo-ing puppet people), New Order, Frankie Goes to Hollywood, Soul II Soul, Happy Mondays, Eurythmics, the Prodigy, Underworld, Trainspotting, "I'm Forever Blowing Bubbles," a TARDIS noise, Charlie Chaplin, Four Weddings and a Funeral, Blur, Dizzee Rascal, Slumdog Millionaire, Amy Winehouse, Muse, Tinie Tempah…and then suddenly Sir Tim Berners-Lee is on the world-wide web in a house. The web HE INVENTED.
Speaking of TARDIS noise, here's how that went down:
http://www.youtube.com/watch?v=993puhW1Vs8
Then David Beckham arrives at the stadium by speedboat, holding the torch. Meanwhile there's some sombre desert dancing, and Emeli Sandé sings "Abide With Me."
*sniffly moment*
OK, let's get these bloody athletes out, shall we? You can probably guess what this bit is like, except to say Team GB entered the stadium to "Heroes" by David Bowie (and Fiji had the Bee Gees).
And then everyone had Arctic Monkeys, fireworks that made the stadium look like a catherine wheel from above, and luminous bird people on bicycles, one of which actually takes off while the Monkeys play "Come Together" by the Beatles. Again: NO. REALLY.
Then all that remains is a couple of speeches, the Queen opening the games with more catherine wheel fireworks. Bit of a flag moment – starring Muhammad Ali! – and then LOOK! LOOK ON THE RIVER! It's David Beckham and the Olympic Torch! And he's lighting Sir Steve Redgrave's torch (not a euphemism) on the riverbank! And now Sir Steve is bringing it up into the stadium (while some important vows happen), and HERE IT IS, the OLYMPIC FLAME! Oh Steve's given it to a group of young athletes, and they've gone for a run while the singer from Two Door Cinema Club have a bit of a sing-song. Bear with me…
Ah! They've arrived now. And they've lit a massive ring of metal petals, each one delivered by a representitive of an competing nation, and each one rising to form a huge crucible for the flame. A stunning design, and one of the last delights of an amazing evening, save for another massive firework display to the tune of Pink Floyd's "Eclipse" (the powerhouse ending to "Dark Side of the Moon").
Oh and Sir Paul McCartney cranking out "Hey Jude," because we've blimming GOT "Hey Jude" to crank out.
That's it. The end, and also the beginning. Amazing! (although I think possibly Doctor Who fans might think otherwise)
Read More
Filed Under: