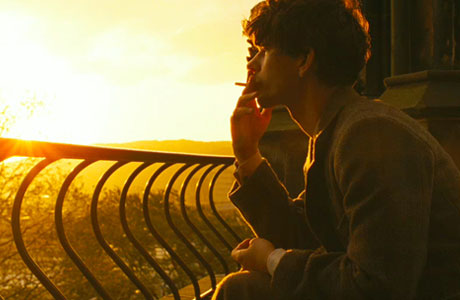 Twitter and the Interwebs have been abuzz today after the release of a gorgeous extended trailer for Cloud Atlas, an ambitious, visually arresting adaptation of British author David Mitchell's 2004 novel. The film features six intertwining narratives across centuries, both past and future, and a Oscar-bait cast to die for, which includes Academy faves Tom Hanks, Halle Berry, Susan Sarandon, and Jim Broadbent.
In one of the story threads, Broadbent plays mentor to a young composer portrayed by The Hour's Ben Whishaw, who gets an admirable share of face time in this trailer. With The Hour's second season and his turn as Q in the new James Bond flick Skyfall in the offing, the upcoming months look to bright ones for Mr. Whishaw.
Whishaw and Broadbent aren't the only Brits featured here: look out for Jim Sturgess and James D'Arcy.
The film boasts a visual dream team of co-directors: Tom Tykwer, most famous for directing Copper star Franka Potente in Run Lola Run, working here in collaboration Andy and Lana Wachowshi (The Matrix). It is set for release October 26.
Has this trailer piqued your interest in Cloud Atlas?
Read More
Filed Under: