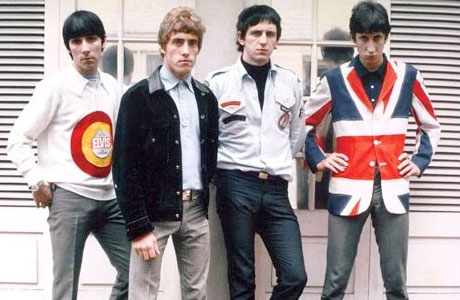 I'm sure I don't need to explain this to a flag-appreciating nation such as the U.S., but it's very, very easy to put a flag on a thing, and make it look better. Especially when your flag is a lovely bright red, streaked with crisp white, on a bed of deepest blue. There's just something startling about that combination of colors, especially if you've grown up with it. And of course, using the design of something solemn and representitive on something workaday and flippant can set off all sorts of conflicting messages in the mind.
You only have to look at this view of the Who to see what I mean. Three grumpy mods, and (massive fanfare) PETE TOWNSHEND on the end there.
So, here are 1o things which use the British Union Flag as a design inspiration. You are not under any obligation to salute:
1: Darts
It's a very British sort of game anyway, why not put the flag on the flights? It won't make them fly any straighter, but it will give you a crushing sense of withering disappointment when you miss. Enjoy!
2: Battenburg
If we're going to wrap sliced-up sponge cake in marzipan, after arranging it to make the slices into patterns, why stop at the traditional pink and yellow checkerboard pattern? Although I think a stars 'n' stripes version might be a little fiddly.
3: Drums
Not a surprise addition, this one, what with Noel Gallagher's Union Flag guitar and Pete Townshend's Union Flag jacket. Rock loves gesture politics and flags in general, so this kit, made by the company that made all of Keith Moon's drumkits, was an inevitability.
4: Pantyhose
And if it's good enough for hoary old rockers, it's good enough for sideways legs, right ladies?
5: Sofa
The advantage of this design is you will never need to switch a light on if you're sleeping on the sofa and are not sure where it is. Those white stripes will be like the landing lights at the airport.
6: Shoes
Another Who-related design, this time for Converse. Only to be worn with the Union Flag jacket and the Union Flag dress and pantyhose if it's a Royal Wedding, or Benedict Cumberbatch / Matt Smith has won an Oscar.
7: Union Flag Gate
(Copyright Gideon Mendel/Corbis / APImages)
That's not 'Union Flag-gate,' like a scandal involving a flag, Russell Brand, fourteen models and a jar of Marmite, this is an actual gate, in London, outside a scrap yard in Hackney Wick.
Oh, speaking of Marmite…
8: Ma'amite
I know we quack on about Marmite a fair bit (and that is because it is DELICIOu… right, sorry), but their repackaging to celebrate the Queen's Diamond Jubilee was inspired. A red lid instead of the common yellow, the Union Flag across their logo, and the killer stroke, the name Ma'amite. Amazing.

9: Art
This is an art work called "British Flag" and it's by Maurizio Savini. It is made from chewing gum, with a laquer of fibreglass over the top. I bet it tastes disgusting.
10: Earning Geri Halliwell some sorely-needed money
(Press Association via AP Images)
Having been asked to design a range of clothes for Next, Geri elected to revisit her most iconic fashion moment, where her sister Karen made a dress out of a Union Flag tea towel. The good news for anyone hoping to steal her style (but a little self-conscious) is that the hemlines of her modern creations are considerably lower, to minimise the flashing of black underwear to the photographers of the world.
Her boobs appear to be on fire, however.
Got a Union Flag example for us? Tell us here:
Read More
Filed Under: