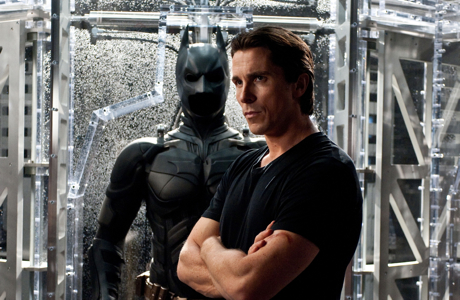 Hey, movie fans, you've got Bale.
Christian Bale has played Batman three times in the past seven years and the superhero role has made the British actor a bona fide box office star.
His most recent turn as Bruce Wayne in The Dark Knight Rises, the final film in director-cowriter Christopher Nolan's comic book movie trilogy, opened Friday.
Add to that the Oscar that the Welsh-born star won for Best Supporting Actor for playing real life, drug-addicted former boxer Dicky Eklund in The Fighter (2010), and Bale has been riding high in recent years.
It would be a mistake, however, to think of the 38-year-old star as a recent phenomenon. Bale, who began as a child actor in British TV commercials, won his first starring role at age 12 in Steven Spielberg's Empire of the Sun (1987). He has worked consistently since, going from youth to young man to adult in front of moviegoers as he starred in such popular studio fare as Newsies, Shaft and 3:10 to Yuma.
Since reaching adulthood, Bale has repeatedly shown a willingness and enthusiasm for taking on difficult roles in challenging films. For example, who can forget him wielding an ax, buff and nearly naked, as a psycho yuppie killer in American Psycho (2000)? Many of those roles offered little in the way of compensation beyond artistic satisfaction.
Here, in chronological order, are five of our favorites of his lesser-seen films:
Metroland (1997)
In his first truly adult role, Bale played a married, London suburbanite who, upon running into a friend from his younger days, finds himself questioning his decision to settle into early couplehood. With this role, Bale signaled that he was both all grown up and looking to stretch beyond the usual roles. The movie was based on a novel by British author Julian Barnes and costarred Emily Watson.
http://www.youtube.com/watch?v=ajehAbSdpHU
Laurel Canyon (2002)
In this slyly comic drama, Bale played a young doctor who found himself odd man out when he and his fiancée (Kate Beckinsale) move in with his bohemian mother (the always brilliant Frances McDormand) in L.A., and the two women decide he's a boring old stick. Bale and fellow Brit Beckinsale had previously worked together when they co-starred in Royal Deceit (1994), a version of Hamlet that was originally titled Prince of Jutland.
Equilibrium (2002)
A thriller set in a dystopian future where emotion, music and art are all verboten, this stylish-looking film starred Bale as a government official who covertly fights the repressive regime even as he pretends to support it. Though the trailer sold the movie as an action fest, Equilibrium was a lot smarter than its marketing made it seem.
http://www.youtube.com/watch?v=ZVDiaYQXBVs
The Machinist (2004)
You remember this one; it's the psychological drama for which Bale lost more than 60 lbs., reducing himself to a scary-looking 121 lbs. by restricting his diet to apples and coffee. He did so to portray a character suffering from severe insomnia and possible delusions, the cause of which is revealed only late in the film. If Hollywood had any doubt about just how serious and dedicated an actor Bale was, his work here provided all the answer anyone could have needed.
Rescue Dawn (2006)
In many ways an old-fashioned adventure drama, this true-life story teamed Bale with maverick director Werner Herzog. Bale portrayed Dieter Dengler, a U.S. pilot shot down over Laos during the Vietnam War. He manages, through daring and sheer stubbornness, to make his way through the jungle to freedom after escaping from a brutal prison camp. The movie was a tough location shoot in Thailand's hot and steamy jungles. When asked why he signed on for such a grueling challenge, Bale told an interviewer, "I like testing myself and seeing how far you can go."
——————————-
What's your favorite Christian Bale movie?
——————————-
Read More
Filed Under: