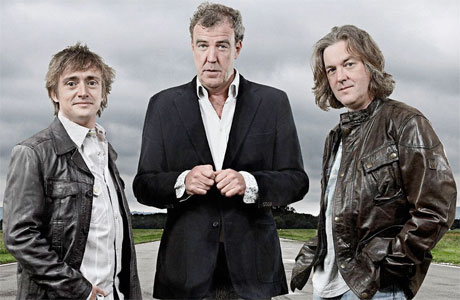 Top Gear hosts – Jeremy Clarkson, James May, and  Richard Hammond– pride themselves on their automotive performance and, of course, outdoing one another. A bit of friendly competition never hurt anyone. Well, maybe we shouldn't speak too soon – boys and their toys! Not to forget … their handy dandy test driver, The White Stig, a man of few words [actually, none]. iTunes is revving through the summer by offering free and discounted episodes of Top Gear as part of BBC America's Summer of London series.
Jeremy Clarkson, Season 15, Episode 4
http://www.youtube.com/watch?v=bREGX8NA1Ek
Clarkson designs a motorhome, screaming his way onto the highway.
James May, Season 11, Episode 11  
http://www.youtube.com/watch?v=ZuOz_17oPKM
May takes a stab at flirting with some girls on the side of the road.

Richard Hammond, Series 11, Episode 6
Hammond demonstrates what being a bad winner is!
The White Stig, Series 8, Episode 7
http://www.youtube.com/watch?v=tf4bGWPj4GI
The mystery man is arrested. He chooses the right to remain silent.
Do you have a friendship like these blokes?? Tell us about it!!
Read More
Filed Under: