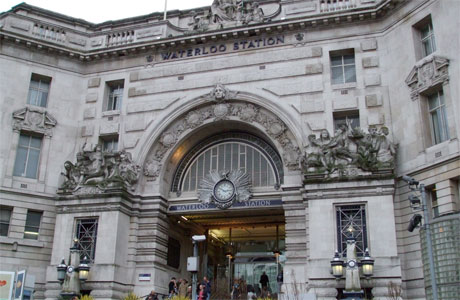 "The Lambeth Walk"
http://www.youtube.com/watch?v=6CPRVRiJ7QQ&feature=related
London is well served with hymns to its own populace, going back to Music Hall days and beyond. Here's North London's own Chas & Dave with a song from the 1937 musical Me and My Girl. The song, named after a street in the borough of Lambeth, was so popular at the time, it even had its own Cockney dance routine.
"Waterloo Sunset" – The Kinks
It's not that there haven't been songs hymning the sights and sounds of the capital before "Waterloo Sunset," it's just they tended to either go for the full pomp and ceremony, or the pub singalong. Ray Davies hit upon a third way, by setting himself up as a swooning observer, taking delight in the sight of commuters rushing around beneath him, like a beat-group Wordsworth. If modern London has its own civic anthem, it's this song.
"London Girl" – The Pogues
Meanwhile, Shane MacGowan, an Irish expat among the London Irish, provides a touch of London-born William Blake, with a few Shakespeare references thrown in for good measure: "The devil moon took me out of Soho, up to Camden where the cold north winds blow."
"Down In The Tube Station At Midnight" – The Jam
Paul Weller comes from Woking, a town within London's commuter belt, and must have been well used to the late night horrors of trying to get home without attracting unwelcome attention. He was only 20 when he wrote this first person story song about a man returning home to his wife, curry in hand, only to be attacked by a gang of thugs, who take his keys and leave him in a heap. It's a suburban kid's fear of the big metropolis, artfully rendered into astonishingly tense pop music.
"Jack The Ripper" – The Horrors
Speaking of fear, here's the total bloody mess of Screaming Lord Sutch's signature tune, as rendered more screamy and more messy by the Horrors. No legend looms larger over the streets of Whitechapel than that of Jack the Ripper, Victorian serial killer. The brutality of his crimes, and the fact that he was never caught, changed the psychogeography of the whole area forever, even on the sunniest of days.
"London's Burning" – The Clash
Yesyesyes, "London Calling" is a great song, full of apocalyptic dread and general unease. It's also a lofty song which places London at the head of everything, and seeks to bring a flood down upon it. While scary in itself, it's a continuation of the elemental damage inflicted upon the capital within this song, in which Joe Strummer is roaming around Notting Hill and Ladbroke Grove, looking for an empty house to squat while out of his brain, and confused by the traffic lights. What the fire doesn't consume, the water will wash away.
"Driving In My Car" – Madness
This is as close as a British band is ever going to get to writing one of those "freedom of the open road" type Springsteen songs, and of course it's about bombing around North London in a beat-up old banger. It's a mentality thing: never mind what Top Gear may have to say on the subject, the British tend to believe their cars are a bit rusty and rubbish, they can't get them to go very far, and when they do, they cough a lot. Mind you, if you're only driving around London in the traffic, far isn't really a concern.
Wiley – "Living In London"
Extreme wealth and privilege rubbing shoulders with extreme poverty, people who are cash rich and time poor being harrassed by people with the exact opposite situation, who only live a block away. Big cities have always faced the same problems of overcrowding, unfair sharing and mutual suspicion (there were complaints about London traffic and squalor in Chaucer's day), and the rallying cry of defense is always the same: "we're living in London, what do you expect?"
"Under The Westway" – Blur
When not bashing out Gorillaz albums and writing operas, Damon Albarn has spent an entire career trying to match the winsome majesty of "Waterloo Sunset," which is a wonderful way to spend your time in anyone's book. This is the closest he's come yet, a song the newly re-activated Blur put out a couple of weeks ago. The impulse is exactly the same, finding the romance, a sense of bliss, in things that happen every day.
"The Bus Driver's Prayer" – Ian Dury and the Blockheads
And here's a little bit of levity to send you on your way with a spring in your step:
Our Father,
Who art in Hendon
Harrow Road be Thy name
Thy Kingston come
Thy Wimbledon
In Erith as it is in Hendon.
Give us this day our Berkhampstead
And forgive us our Westminsters
As we forgive those who Westminster against us.
Lead us not into Temple Station
And deliver us from Ealing,
For thine is the Kingston
The Purley and the Crawley,
For Iver and Iver
Crouch End
Be lucky!
Note: There are far too many versions of London, as depicted in popular music, to pick more than a vague representitive sample. By all means point out which ones we missed below, beginning your entry with "You forgot 'Werewolves of London,' dummy!"

Read More
Filed Under: