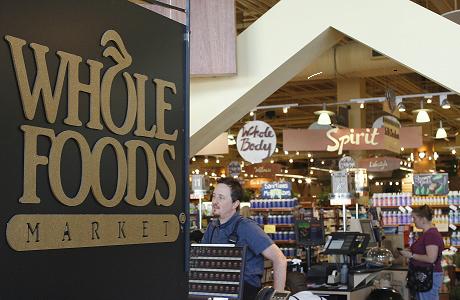 Many of your favorite British stores also have branches in the U.S. But you'll need to find replacements for those that haven't yet hopped across the pond. To help you out, here are our top shop alternatives.
Marks and Spencer
For high-end edibles – with price tags to match – try Whole Foods. And if you're in New York, there's also Union Market. They sell everything from artisanal cheese to vegetables you've never heard of. Alas, the M&S staple you might struggle to find here – or in any U.S. supermarket – is tasty, affordable ready meals.
John Lewis
The nearest equal to the stalwart British department store is probably Sears. But for John Lewis style furniture and knickknacks, you'll have better luck in Pottery Barn or Crate and Barrel.
Waitrose
A lot of American supermarkets can feel a bit scrappy – and rarely do you get that delicious piped bakery smell. Trader Joe's doesn't smell of cake either, but it does stock own brand, reasonably priced groceries that remind me of Waitrose's Essentials range.
Habitat
For sharp, modern furniture and imaginative accessories, head to CB2 – Crate and Barrel's funkier sister store.
Selfridges
No U.S. department store measures up to this British grande dame, which is curious considering that Mr. Selfridge was an American. Over here, Saks, Barneys and Bloomingdale's are passable alternatives.
Boots
All the big U.S. pharmacies – Rite Aid, Duane Reed, Walgreens and CVS – are serviceable replacements for our own, but scruffier and less well organized.
Homebase
If you need power tools or paint, head to Lowe's or Home Depot. I recently purchased a plunger from a Lowe's employee, who insisted on demonstrating on an invisible toilet before he'd make the sale. My point being, American DIY store staff are significantly more helpful than the ones we have back home.
Asda
Walmart owns Asda so it's the obvious replacement, though you may also want to check out Target and JCPenny for clothes and home wares.
Maplin
For small electrical goods and long conversations with over-informed staff, head to Radio Shack.
Greggs
You'll be hard pressed to locate a deliciously diabolical sausage roll, cream horn or bacon bap in the States. But Dunkin' Donuts has a similar vibe and will serve you up something just as likely to clog your arteries.
T.K. Maxx
You've probably figured out already that T.J. Maxx is what they call it here. Can you see what they did there, with the "K" and the "J"? Of course you can. I'll shut up now.
Waterstones
Anyone who still likes reading words printed on paper should check out Barnes & Noble – America's biggest book chain. Stores usually have an internal Starbucks.
Mothercare:
For infant attire, toys and gadgets that promise to make tiny children go to sleep, American parents like Babies "R" Us and Target.
PC World:
A good range of computers and other consumer electronics can be found in what is possibly the most ambiguously named shop on the planet: Best Buy.
What other American replacements have you found for your shops back home?
Read More