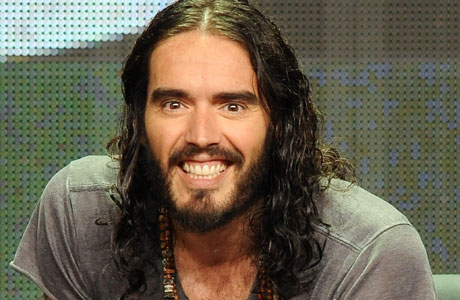 There are times when it feels as if the thoughts of Russell Brand – about anything at all – are the last thing anyone needs right now. Having weathered his hot moment from sex-addicted popinjay of stand-up to painfully generic British rock star of American movies, and suffered a tabloid storm along the way over his marriage to Katy Perry, it just seems as if his thoughts about stuff would be unedifying, especially given the giddying perspective through which he'll have been viewing the world for the last two or three years.
However, this thought does the man a disservice. And here are two quotes given recently that prove the old brainfire is still very much ablaze.
First, having been sentenced to 20 hours of community service for chucking a paparazzi's iPhone out of a window, earlier this year, Russell was asked by WENN what his thoughts on the matter were. His reply was sanguine to the point of being zen:
"I don't know what their format of community service is, but community service, that doesn't seem like a punishment. That seems like a duty.
"We are our community. Service is an honor. I'll be happy to do it. What will I be doing? I don't know. Tidying up or something probably."
Of course, ask him an hour or two into proceedings and he may have a different answer, but let's give him the benefit of the doubt.
Russell also defined the mindset of a certain kind of closet British patriot, with relation to the London Games. As a nation, the British are sometimes slow to celebrate themselves, partly out of reserve, and partly out of self-disgust, and so Danny Boyle's opening ceremony had to not only dazzle, but also acknowledge the good and bad (and the good that comes from bad) in the development of the British nation in order to truly convince British viewers that their views were being represented.
And he succeeded, creating an excitement about the games that simply wasn't there a week ago.
Here, let Russell explain: "I've been taking the piss out of the Olympics because it's a thing that I don't like, organised festivity and fun. I think of it as, like, a bit bread and circuses, a bit propaganda, a bit, 'Keep them all dosed up on stupidity.' But actually, I watched that opening ceremony. I thought it was really good. The Queen was with James Bond. How can you not feel enthused? Her Majesty, the Queen of England, in a film now!"
I'm glad he said that, because that bit was starting to feel like a fever dream.
Read More
Filed Under: