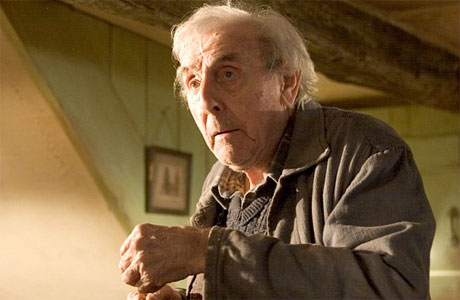 The BBC announced this morning that the comedian and writer Eric Sykes has passed away at the age of 89.
Eric was a link between the post-war radio comedy of the Goons – latter episodes of which he co-wrote with Spike Milligan – and the new TV comedy of the 1950s and '60s. A writer to start with, Eric wrote jokes for iconic British comedians, such as Peter Sellers, Frankie Howerd and Tony Hancock. His warm and endearing presence, mischievous and frequently confused, and always on the verge of a laugh, made him one of Britain's most loved TV and film personalities. And in his latter years he even carved resurrected his movie career, appearing in Harry Potter and the Goblet of Fire and The Others.
To a lot of British people, raised on his sitcoms Sykes, Dress Rehearsal or Sykes And A… (often appearing with Hattie Jaques), or his silent movie The Plank, or even hearing his voice proclaiming the title at the beginning of Teletubbies, his was a wickedly benign presence, like a beloved uncle's dirty cackle.
Paying tribute to an old friend, Bernard Cribbins told BBC News: 'I just wish him a lot of rest up there with all the other comics, Spike Milligan and Harry Secombe. They will all be up there, having a laugh together.'
Here are just five things Eric Sykes did, for which the British people will be forever grateful:
Sykes And A… (1961)
http://www.youtube.com/watch?v=k66Omw186Gg
This skit, in which Eric gets his toe stuck in a bath tap, is one of those 'Who's On First' comedy moments which gets dusted off for clips shows quite regularly, until it becomes so familiar it's hard to explain to anyone who's never seen it and doesn't find it funny. So, er, here it is.
The Plank (1979)
A silent movie, featuring Arthur Lowe (from Dad's Army), Bernard Cribbins and Eric, larking about as builders. Pure family entertainment.
The Likes of Sykes
A huge fan and supporter of Tommy Cooper (the gangling one in the distinctly UN-cool fez), Eric proved a more than capable straight-man for his wayward pal in variety shows like this, from 1980. Note the distinctly meta rolldown blinds.
Teletubbies
http://youtu.be/tkLhoiSgF-M
The first voice you hear is that of flame-haired post-punker Toyah Wilcox, the second is Eric Sykes. You might want to switch off after a bit, unless you're really into pre-literate TV. Kinda relaxing though, isn't it…
Dinnerladies
Victoria Wood's one dipped toe in sitcom waters, and a fantastic job she did too. Here's Eric (and indeed the entire cast) being upstaged by Thora Hird (the one in the wheelchair). He gets his chance to shine later on, don't fret.
Comedy flags at half mast, please.
Read More
Filed Under: