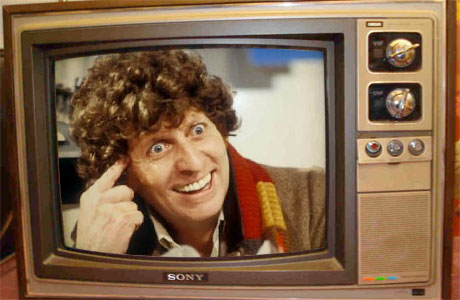 The appearance of Matt Smith on the cover of this week's Entertainment Weekly will probably introduce a lot of people to Doctor Who for the first time. And that's quite a heady thought, imagining someone settling down to a show that takes so many bizarre things for granted. Why does his spaceship look like that? What does that green torch do? What's a Time Lord and where is his manor?
We're not going to explain it, because finding that stuff out is all part of the fun, but we did want to try and find out where most people got on board the TARDIS, so to speak. So we're pulling together as many formative Doctor Who experiences as we can – no matter how recent – under the hashtag #NewToWho, to see if we can see exactly how the show has developed from British cult to worldwide obsession.
And I'm going first. So, settle down. I'm going to take you on a little journey through time and space. Our destination is a house in a small village in rural Oxfordshire, UK, in the mid-'70s, and it's a Saturday evening, around five.
There's a young family, settling down around the TV for a weekly ritual. Mum's bringing in a tray of food: slivers of toast, some egg mayonnaise or grated cheese to put on them; there are sliced meats, crackers and crisps (chips to you) and a few bits of tomato, celery and cucumber that the children possibly won't eat. Oh, and some plastic cups of orange squash. They're preparing for a sofa picnic. They do this every week. It's time for Doctor Who.
I was born in 1971, a year after Jon Pertwee had taken over from Patrick Troughton as the Doctor. The inspiration for my first name came to my parents from watching Frazer Hines play Jamie in the late '60s. The Doctor Who theme tune is one of the first pieces of music I can remember hearing, even though I've never fully grown immune to its eerie velocity.
If I really think hard, I fancy I can remember the regeneration from Jon Pertwee to Tom Baker, with the spiders and the blue crystal. But really I'm a Fourth Doctor man all the way; the jelly babies, the sonic screwdriver, the TARDIS and the scarf; K9, Leela, Sarah Jane Smith and the Romanas. And on the baddies side, I remember being petrified of The Robots of Death; I remember Davros shouting like a Dalek; I remember the one-eyed and brain-faced Scaroth from City of Death; but mostly I remember the ritual of watching, the little bits of toast with egg on them, and cringing at that cyber-shriek that ushered in the credits at the end of every episode.
Later on, there was Peter Davison, and collecting all the Target novelizations of old stories that I'd never seen at the time. There was no other way to experience what had gone before. I decided, with no experience to back this up, that my favorite Doctor was Patrick Troughton, even though it was always Tom Baker really, and that my favorite monsters were the Cybermen. I even went to the first Doctor Who convention, masquerading as a 21st birthday party at Longleat House in 1984. We couldn't get in, as the queue was too long, but Jon Pertwee and Peter Davison (in full Doctor costume) came down the line, shaking hands with people.  I shook their hands but couldn't speak, or look them in the eye. It was all a bit much.
After The Five Doctors and the next regeneration, I got distracted and started finding other things to do with my Saturday evenings. By the time the show was cancelled in 1989, I hadn't watched it for ages. The Saturday night sofa picnics had largely gone, and I was due to go off to college anyway. But when Christopher Eccleston was announced as the new Doctor in the mid-naughties, I knew exactly how to mark the occasion:
With a trayful of toast, egg mayo, sliced meat and some sticks of celery (that no one would eat). And it was great.
Note: it doesn't end here. We want your tales of Time Lord first love. Tell us on Twitter how you were first introduced to the Doctor, the TARDIS, the Daleks and everything else the Whoniverse has to offer, and remember to mark your tweets with the hashtag #NewToWho so we can all see what's what.
Read More
Filed Under: