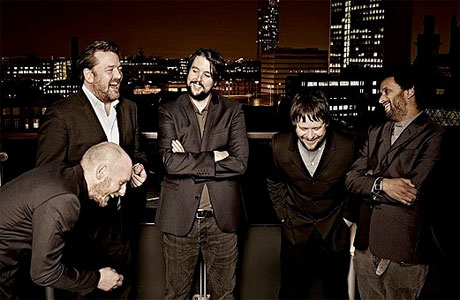 Here's Elbow's score for the BBC coverage of the games. They've arranged it so it can be cropped into tiny bits and used for trails, montages and all sorts. At first it just sounds like TV music, but then somehow it also sounds like Elbow. How very apt:
And here's the Chemical Brothers and their "Theme For Velodrome," the official (and quite scary) anthem of the 10 days of cycling events, which will take place in a building called the Velodrome, obv. It's out on July 30, and a very brave choice on their part, given that Kraftwerk have such strong links with cycling already. Just as well they're good, innit?
Then there's the Delphic song "Good Life," which is part of a triple-header for the games, in that they have supplied a reswizzling of Vangelis's theme from Chariots of Fire for the medal ceremonies, and their song "Clarion Call" has also been picked by Channel 4 as their theme for the Paralympics.
Speaking of things being reswizzled, Elton John has had some of the bits and bobs he recorded in the '70s remixed by the Australian dance producers Pnau, resulting in a No.1 hit album in the UK, and the song "Good Morning to the Night" taking center position on the musical medal podium.
And of course there was that Muse song from a week or so ago, the Herculean one. They won't let us embed it any more, because they are swine.
Edit: This one wasn't ready when this blog post was written, it's Dizzee Rascal featuring Pepper, and their crowd-encouraging "Scream"
That's it for officialdom. Stand by for the parade of cheap knock-offs and satirical sideswipes that must surely be about to descend…
Read More
Filed Under: