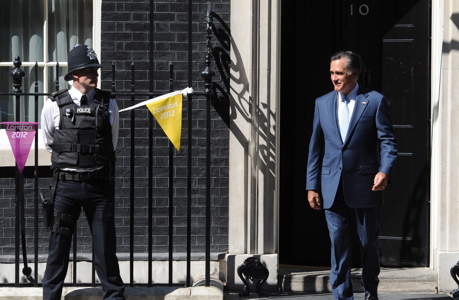 While Mitt Romney isn't running for anything in Britain, today he's running from something – namely, his own comments about the Olympics.
On his first day in London, the presumptive Republican presidential nominee suggested that the British might not be up to hosting the Games.
"It's hard to know just how well it will turn out," Romney told NBC News' Brian Williams on Wednesday. "There were a few things that were disconcerting: the stories about the private security firm not having enough people, the supposed strike of the immigration and customs officials, that obviously is something that is not encouraging."
He also appeared to question whether the country was willing to properly celebrate the Games.
Romney's trip to London, to meet with British political leaders and to attend the opening of the Olympics, was meant to be a "charm offensive" aimed at showcasing the candidate's foreign affairs abilities. Instead, he offered remarks that his hosts have been interpreting as insults.
"Mitt Romney is perhaps the only politician who could start a trip that was supposed to be a charm offensive by being utterly devoid of charm and mildly offensive," wrote Alex Spillius in the Telegraph. Romney, he said, showed "a strange way to build bridges with a country that he says should be restored as the umbilical ally of the United States, and a strange way to demonstrate the persuasive qualities needed as leader of the free world."
London mayor Boris Johnson shot back: "London is as ready as any city has ever been in the history of the Olympic Games." Speaking before a crowd of 60,000 people in London's Hyde Park, Johnson elicited a big reaction when he said: "There's guy called Mitt Romney who wants to know if we are ready. Are we ready? Yes we are!"
Britain's Prime Minister David Cameron responded that everyone will "see beyond doubt that Britain can deliver."
But he also seemed to offer his own criticism of Romney, who was the executive director of the 2002 Winter Games in Salt Lake City, Utah.
"We are holding an Olympic Games in one of the busiest, most active, bustling cities anywhere in the world," Cameron said. "Of course it's easier if you hold an Olympic Games in the middle of nowhere."

Today, after meeting face to face with the Prime Minister, Romney quickly backtracked on his earlier comments.
"I expect the Games to be highly successful," Romney told reporters afterwards. "I am very delighted with the prospects of a highly successful Olympic Games. What I have seen shows imagination and forethought and a lot of organization."
And, as the Telegraph pointed out, Romney "appeared to have taken the hint" from Cameron about how to revise his comments by mentioning the complexities of mounting the Games in London.
"To look out of the back side of 10 Downing Street," Romney said… Okay, before we get to the rest of the quote, we have to point out Romney's unfortunate use of the word "back side" because it hasn't gone unnoticed in the British press. "Back side" is, as most Anglophenia readers know, a British equivalent for derrière.
Anyway, back to the rest of the quote: from 10 Downing Street, Romney said he could "see a venue having been conducted, knowing that athletes will be carrying out their competition almost in the back yard of the Prime Minister, is quite an accomplishment on the part of those who wanted to make sure the Olympics was not something held far off where the people could not enjoy it but right in London itself."
But even with that apology, the diplomatic brouhaha wasn't over.  Remember David Cameron's original counter to Romney – about how easy it is to stage the Olympics "in the middle of nowhere"? (Go back six paragraphs and/or two video clips.) Salt Lake City was not amused.
Art Raymond, spokesman for the city's mayor, told Buzzfeed: "We'd welcome the opportunity to share all that we enjoy here with the PM including a great number of assets that you'd be hard-pressed to find in London, [such as] world-class outdoor recreation [and] an economy that has prospered even through the recent economic recession."
"He can stop by any time," offered Raymond. "We'd love to have him and are happy to send a map so he doesn't run into any trouble locating the middle of nowhere."
Read More
Filed Under: