It's that time of year again, Comic-Con is on the way (10 days and counting) and it's time to get those cosplay outfits together. But while it's fairly easy to knock up a Doctor outfit that looks like a Doctor outfit (check out previous How To Dress Like blogs for reference) a perennial problem arises for the girls. If the Doctor's companions tend to dress like attractive and modern young women, how can you be sure people will get that you're in costume, and not just dressed as your normal attractive and modern self?
Well, assuming you don't already know the answer to this question, we're happy to offer a series of blogs devoted to this very problem. Basically you need to pick an outfit that is the most commonly associated with the character you're attempting to be, unless you get a kick out of sending out deliberately obscure references that only one or two people will underst… oh. Comic-Con, right.
Moving briskly along, let's take Rose Tyler as our first example. It seems that Rose, despite wearing all manner of different outfits during her time aboard the TARDIS, didn't really hit upon the iconic look until after she left. All those deep pastel hoodies and boot-cut hipster jeans came and went, but it seems that no one really pays that much attention to what you're wearing in Doctor Who world, unless you're carrying an unfeasibly large gun.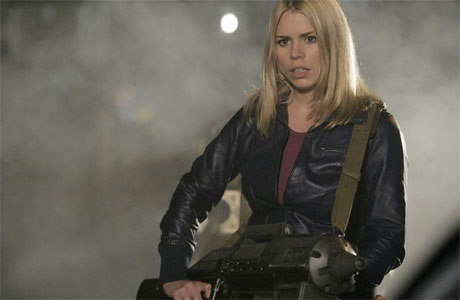 So, here's a brief guide to THAT outfit. You may need to make the gun, obv. But if you do, why not make it hollow enough for sandwiches? Then it's officially a holdall.
1: Hair – Blonde, straight, centre-parted, no bangs, collar-bone length.
2: Jacket – deep purple leather windcheater with elasticated cuffs and a zip-up front. Waist length.
3: Top –  deep pink sweater, scoop-necked and long enough to pop out of the bottom of the jacket to keep your bum warm.
4: Trousers – black. Straight legged or boot cut. Something a bit swishy around the ankle, is what we're after here.
5: Shoes – black and shiny, round-toed and ready for running about it. Let's not go mad with the heels.
6: Accessories – well apart from the massive Dalek-shooting gun, everything else is pretty minimal. No necklace or rings, some gold hooped earrings which remain tucked behind the hair. Warrior Rose keeps things simple.
And if all of this seems a bit obvious, you can always copy the Union Flag T-shirt look (with attendant ringlets) in the photo at the top.
Also: show BBC America your best cosplay photos for a chance to win Doctor Who prizes! Enter here!
Next: How to dress like Captain Jack Harkness
Read More
Filed Under: