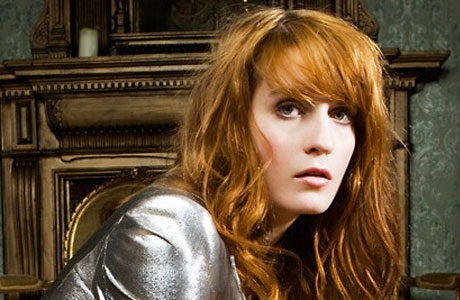 You know how sometimes you watch Florence Welch bellowing one of her songs of inspirational/hysterical pain and think "blimey!" (or local equivalent) "she'll do herself a mischief if she keeps that up for much longer."
Well it seems you were right, Dr. Know-It-All. While in full florid flight last week, poor Flo suffered a vocal injury, hurting her throat in much the same way that Adele did last year.
She told Us Weekly: "I actually felt something go pop or snap, or whatever. Whatever it is, it was very frightening. I had to really adjust because it happened in the middle of a show."
And a tense week followed, with cancellations of planned performances at the in Portugal and Spain. But fingers crossed, she appears to be on the mend.
She explained: "I had a full check up and he said that there wasn't any permanent damage that couldn't be restored without rest. So if I keep taking care of myself there won't be any reoccurrences."
Which means an inevitable calming down, starting with her drinks intake: "No tea, no coffee! That was the hardest part. I had been on such a caffeine kick up until then. I was fully back on five diet cokes a day and two coffees in the morning. I was really twitching my way through life, but I was completely loving it. And I had to cut it out completely.
"And I managed to get properly hurt again and had to cut everything out, so I'm back on the herbal tea."
You can go ahead and insert your own "Shake It Out" gag here, if you wish.
Read More
Filed Under: