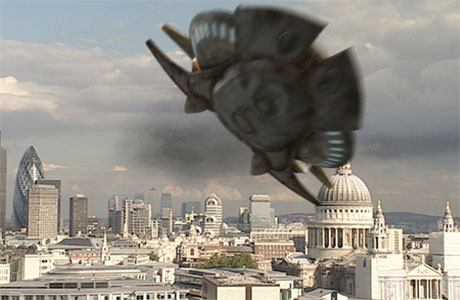 As Amy Farrah-Fowler points out on The Big Bang Theory, "for someone who has a machine that can travel anywhere in time and space, Doctor Who sure does have a thing for modern-day London." And why shouldn't he? Most of us have access to cars, trains, planes and boats, and yet we tend to spend our time in the same place. If the Doctor considers anywhere to be home, it's most likely to be somewhere in the British capital, and somewhen around the latter 20th/early 21st century.
(Although he's clearly developing feelings for Cardiff too)
Here are five of his notable cockney dust-ups. Add your own favorites underneath:
"An Unearthly Child" (1963)
Why does the Doctor favor London so much? Well he used to live there, in an old junkyard in Shoreditch (or London's trendy Shoreditch as it would be known these days). His granddaughter Susan went to school there, while he pottered with the TARDIS, and her schoolteachers Ian and Barbara became his first human travelling companions (that we are aware of). And if you think fish fingers and custard is weird, you clearly haven't tasted pickled whelks.
"The Visitation" (1982)
We couldn't leave this one out, not so much because of the battle between the Fifth Doctor and the plague-releasing Tereleptils in 17th Century London, but because the final battle takes place in a bakery on Pudding Lane. The very bakery, in point of fact, where the Great Fire of London is believed to have started. So yeah, the Doctor loves London so much he nearly burned it to the ground.
"Aliens of London" (2005)
Or Wahoo! Aliens of London, as us Warron Zevon fans insist on calling it. And another example of the Doctor ending up destroying chunks of London, in order to save it from aliens. This time we have the Slitheen in Downing Street, a spaceship whacking a chunk out of Big Ben (the tower, not the bell)  and then Mickey firing a missile and blowing up No.10, home of the Prime Minister. Bet you're glad the Doc's not partial to your home town now, eh?
"Fear Her" (2006)
Included partly for the London Games bit at the end, but mostly because of the amazing TARDIS materialization gag at the beginning. The Doctor arrives in a cul-de-sac, discovers a girl with mysterious drawing powers, and ends up carrying the Olympic torch, all the while waxing rhapsodic about cake decorations, as is his wont.
"Victory of the Daleks" (2010)
Back to the London of yesteryear goes the Doctor and Amy, and before you know it, they're having a chin-wag with Winston Churchill, during the blitz. And then they're served tea by a Dalek. Honestly, you can't even have a decent world war without some alien or other poking their eye-stalk in, the rotters.
Note: as part of the Summer of London campaign, BBC America is giving away free and discounted BBC content on iTunes, and this is "Best of British" week, which means there's a free download of Fear Her, just waiting for you to go and get it.
Note 2: Don't forget the premiere of "Going For Gold" starring Matt Smith is tonight (7/25) at 8/7c on BBC America.
Read More
Filed Under: