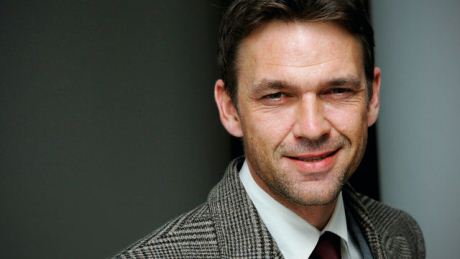 This week we discovered that Dame Diana Rigg and her daughter Rachael Stirling will be appearing in the new series, in a Victorian adventure written by Mark Gatiss, which allows Matt Smith to rock a bowler hat in quite a convincing fashion. But they're not the only familiar faces who will be putting in an appearance.
The rollcall so far includes David Warner (who has managed to appear in TWO films about the Titanic, including Titanic):
http://www.youtube.com/watch?v=f6II5F9KaEA
Then there's Liam Cunningham from Game of Thrones, confirmed via Doctor Who Magazine. Here he is, appearing here in a 2003 drama, The Crooked Man:
Also confirmed via Doctor Who Magazine: rising BBC star Jessica Raine (best known for the retro-drama Call The Midwife):
and finally, Dougray Scott (y'know, DOUGRAY SCOTT):
http://www.youtube.com/watch?v=E1xXXy7hqG0
And that's just for starters.
Here's what else is going on in time and space this week:
• Doctor Who looks set to do rather well in this year's TV Choice Awards, if the nominations are anything to go by. The show is up for three awards, Best Family Drama, Best Actor (Matt Smith) and Best Actress (Karen Gillan). Once again Matt is up against Benedict Cumberbatch in his category (as well as Colin Morgan from Merlin and Martin Clunes from Doc Martin), with Sherlock appearing in Best Drama, so's not to split the pro-Moffat vote. And also because it's a bit more grown-up.
Best of luck to everyone concerned.
• There are secret Whovians all over the world of showbiz, including ER (and Falling Skies) star Noah Wyle, who used to like the classic series in his youth. He told Digital Spy: "[I enjoyed] various incarnations, and [it was] sort of sporadic, although I'm told that I should really get back into it, because it's been a radically reinvented franchise. I guess the guy that's now in charge [that would be Steven Moffat] is quite brilliant, so I'm curious to see."
Boy is he in for a pleasant surprise.
• If you are going to Comic-Con, all this week we're running little cosplay blogs offering suggestions on how to dress up like various Doctor Who characters. We did the actual Doctors last year, but if you follow the blog category How To Dress Like Doctor Who, that's where everything is. Good luck with your sonic cucumbers!
• Oh and this week's rogues were the haughty and fighty Sontarans. Go to the Rogues Gallery for more info.
• Crafters, you may have seen all the knitted Dalek bootees you'll ever want to see, but how about these etched glasses, made using home-made stencils and glasses found at the Salvation Army store?
These, and 10 other craft ideas are available at Geekcrafts.com.
• We've finished off the Doctors in Life Outside the TARDIS, with a brief examination of the career of Matt Smith. It's only brief because he's just geting started, of course, but we managed to find a few gems. Keep an eye on Anglophenia, though, we're after the companions next…
• And on that note, Arthur Darvill has signed up to appear alongside David Tennant in a new ITV drama Broadchurch, written by Doctor Who's Chris Chibnall. The series is about a small community which falls under intense media scrutiny, and the search for the killers of a young boy. David plays a newly-arrived police detective, trying to crack the case without the help of a local detective sergeant, played by Olivia Colman. Arthur plays the town priest.
Chris told the Radio Times: "Broadchurch focuses on a small British community which finds itself at the eye of a storm. In the wake of one boy's death, the residents of Broadchurch come under scrutiny and suspicion. It's a story of scale and intimacy, as the lives of the characters are laid bare."
• Let's go out with a song. This is "River Song," a song inspired by, well, River Song. It's by Ally Rhodes, and is being sung from the bench of a tattoo parlor in which she got a Doctor Who tattoo. And it's great:
Until next time (and space)…
Read More
Filed Under: