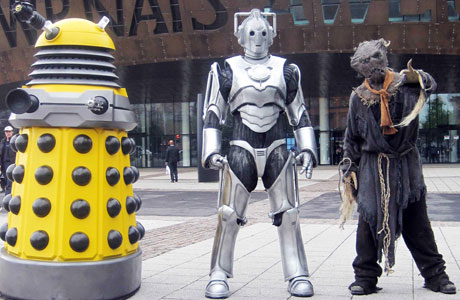 After the chaos and madness of Comic-Con last week, this week's big Who activity (aside from all the people involved in actually making the show itself) took place over in Cardiff, Wales, for the grand opening of the Doctor Who Experience – the permanent home for the exhibition of costumes, sets and props which had been residing in London.
This means TARDIS interiors old and new (from the pristine octagonal terminal to the steampunk command center we know and love today), monster costumes of everyone from the Cybermen to the Ice Warriors, and lots and lots (and lots) of Daleks. And being a permanent exhibition means you can go and see it when you're ready. There's no rush.
Take a look at the gallery of shots on the official Doctor Who Facebook page:
SFX even took a little video, which it's probably best to watch with your mouth open in awe, to get the full effect:
Oh and if you DO go, be sure to download the BBC Walks app, which will provide you with a map of the best Doctor Who locations in Cardiff AND an audio commentary on what happened where, by Arthur Darvill.
Arthur also provides the commentary for this video, describing what goes on at Roath Lock, the BBC's new home for drama in Cardiff. And Matt Smith and Karen Gillan are there too, to keep it in the family.
One last thing before we move on, if we are grateful to the relaunch of the Doctor Who Experience for any one thing in particular, it's the chance to show this utterly delightful picture, from its opening last year.
Here's what else is going on in space and time this week:
• A big announcement about Doctor Who is coming tomorrow. Stay tuned…
• Matt Smith, Karen Gillan, and Arthur Darvill turned up unannounced to BBC AMERICA's Doctor Who Tumblr fan event at San Diego Comic-Con, and I tweeted, "I've just seen the closest thing to Beatlemania in my lifetime." Well, when we spoke to the Doctor Who stars on Comic-Con's red carpet, they re-enacted their response to the ecstatic fan reaction – watch:
And here's the original video of the Matt, Karen and Arthur's surprise visit at the meetup:
• Female sci-fi fans have been traditionally under-served by T-shirt makers, but Her Universe founder Ashley Eckstein aims to change that with her line of Doctor Who fangirl fashions. "Most people don't realize that half of all sci-fi fans are women," she told us at Comic-Con. "We're tired of boxy T-shirts." Watch our interview:
If you want to sample some of her "Geek chic," V-necked tees, the line is available at BBCAmericaShop, BBCCanadaShop, and HerUniverseShop.com, as well as through national retail outlets such as Hot Topic.
• Speaking of fashion, look what's just materialized, a TARDIS waistcoat, courtesy of Doctor Who Crafts:
• Whovians with green fingers will no doubt be excited to hear this week's rotters in the Rogues Gallery are the Vervoid, the mutated asparagus with dirty faces and a deathwish towards vegans. Can the Sixth Doctor apply the right kind of weedkiller? Find out here…
• For no other reason than the fine cut of their suits, here's a photo of Matt Smith and Dominic Cooper at a polo match over the weekend:

• But if anyone's looking for a decent title, they could do worse than pinching the one from the Seventh Doctor adventure The Greatest Show In The Galaxy, which has just been released on DVD.
• Classic Who fans: BBC Home Entertainment is holding screenings of Doctor Who: Death to the Daleks this Saturday (July 28) in Austin (in partnership with Ain't It Cool News and Alamo Drafthouse), New York City (in partnership with Paley Center), Minneapolis (in partnership with the Twin Cities Doctor Who Meetup), and Indianapolis (in partnership with Who North America).
• And finally, who wants to see Melody Pond's regeneration into proper River Song (from Let's Kill Hitler), as rendered in Lego? Well of COURSE you do:
See you next week, or thereabouts….
Read More
Filed Under: