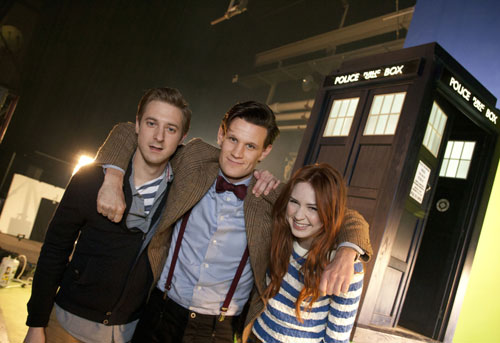 • BBC America has announced that Matt Smith and Karen Gillan will be back at San Diego Comic-Con this year, accompanied for the first time by their co-star Arthur Darvill. Lead writer/executive producer Steven Moffat and executive producer Caroline Skinner will join the TARDIS trio on a panel moderated by Nerdist host Chris Hardwick in Hall H, Sunday, July 15 at 12:30 pm PT.
Also, Matt Smith will once again grace the stage for TV Guide's Fan Favorites panel, which will feature our Doctor alongside the likes of Community's Joel McHale and Castle's Nathan Fillion. That panel takes place Saturday, July 14 at 1 pm PT in the Indigo Ballroom at the Hilton San Diego Bayfront hotel.
Stay tuned to the Anglophenia Twitter account for live tweets from both panels.
• You'll probably have noticed we've been running a very companionable series of features about cosplay, in time for Comic-Con this week. So if you're after a few tips on how to get started with your costume for Amy, Rory, Rose etc (and you've no time to start sewing), then look no further…
• BBC America is also running a Costume Contest for those who are particularly proud of their Whovian fancy-dress creations. Winners will receive special Doctor Who loot. Enter for a chance to win before Wednesday, July 25.
Here's what else is going on in time and space this week:
• Cosplayers, you can see some of your favorite Doctor Who costumes up close and personal, at the Doctor Who Experience in Cardiff, which opens in just 10 days time, with specially filmed segments from Matt Smith, the chance to pilot the TARDIS and an interactive adventure to play. Worth adding it to your schedule, if you're planning a UK trip this summer.
• Huge congratulations are due to Matt Smith, who has just been named as patron on the National Youth Theatre, whom he trained with in 2002.
And to celebrate, Matt even popped into rehearsals for the opening ceremony of the London Games, starring 140 NYT cast members.
He told the Telegraph that his early experiences on stage were crucial, and formative: "I think from my experience the thing about the NYT is that you learn through practice. You're out there on a stage, you're doing a play, you're being directed, you're turning up for rehearsals every day and working as you would work in a professional rehearsal room. It completely transformed my life. No understatement. I'm proud to be part of it still and proud to be the organization's newest patron, as I care very deeply about it."
• Did you know there was a disco version of the Doctor Who theme, by a group called Mankind? And did you know it was an actual No. 25 hit single in 1978, with a Top of the Pops appearance and everything? Well here it is in all its cheesy glory:
• Who wants to see some Dalek stencils on the streets of Missouri? Right you are…
• You know how much we love a brand mashup, well, here's a little video which asks a simple question: what if Doctor Who was The Hunger Games? And then edits Who footage accordingly:
• The continuing drumroll towards Doctor Who's 50th anniversary next year is causing all sorts of people to ask all sorts of questions of all sorts of former TARDIS-dwellers, even former Doctors who might be asked to appear in one of those multiple Doctors stories. It seems the plans (whatever they are) are being kept so very secret (and rightly so) that Colin Baker and Paul McGann are both saying they haven't been asked to appear in anything.
• This weeks Rogues are the terrifyingly placid robots from The Robots of Death, one of the Whoniverse's creepiest creations.
• Using computer hard drives to make music is a little like creating a didgeridoo from a fax machine. It's hugely impressive and brilliantly pointless in pretty much equal measure. Here's a version of the Doctor Who theme on computer hard drives. We await the faxeridoo version with interest:
Read More
Filed Under: