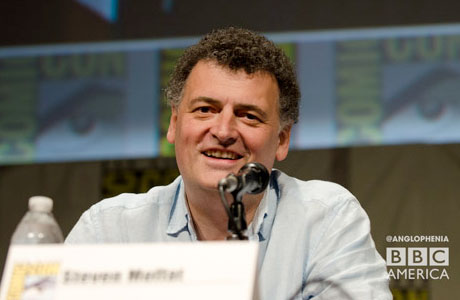 Let's assume you missed Comic-Con this year, missed out on the panel starring Matt Smith, Karen Gillan, Arthur Darvill, Steven Moffat and Caroline Skinner, missed out on their delightful exchanges with a thrilled audience, missed out on Matt Smith's bowler hat, and are now feeling pretty fed up about the whole affair.
Well, the good news is we can at least tell you some of the things that were exclusively revealed there (and if you're sly, you can always use them to pretend you were right at the front all along).
So, the hot news about Series 7 (due this fall) is as follows:
There are going to be five episodes, and then the Christmas special, then another eight episodes in the new year. We begin with Asylum of the Daleks, which is the story with all the old designs of Dalek in. The cowboy epic A Town Called Mercy – written by Toby Whithouse – is episode three.
And in between those is a story called Dinosaurs on a Spaceship. We are reliably informed this will not be a metaphorical title.
Steven Moffat explained: "Dinosaurs On A Spaceship – what more do you need! The Doctor will come face to face with some of the most monstrous creatures evolution has ever produced, on some of the most monstrous sets we've ever built.
"We took one look at Chris Chibnall's brilliant script and said to ourselves 'We're going to need a bigger corridor'."
The story also features Ron Weasley's dad Mark Williams, playing Rory's father, and Rupert Graves, who Sherlock fans will know better as Lestrade.
As for A Town Called Mercy, Steven revealed that finding the right place to shoot needed some careful consideration:
"A Town Called Mercy takes us into a genre Doctor Who hasn't attempted since the Sixties – it's a full blooded western. We knew from the start we need some serious location shooting for this one, and given the most iconic American setting imaginable, there was only one place to go – Spain."
And before you write to your congressional representitive in protest, just remember the dinosaurs won't be really real either.
Find out what else went on a Comic-Con here…
Read More
Filed Under: