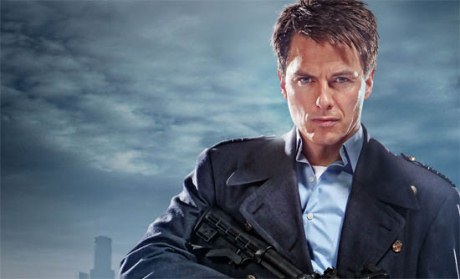 Boys, this is an easy one. A little bit of digging about in your nearest army surplus store or uniform supply warehouse (you've got those in every town, right?) and your costume is as good as finished. Never mind the modern-girl-in-nice-clothes problem, Captain Jack's look is about one item of clothing, and one item only.
But seeing as we're doing a whole series here, and every stone must be overturned, let's go through the motions.
1: Hair – short back and sides, side parting, roguishly stuck-up here and there like an overgrown schoolboy, brown. Easy. Unless you are bald, then it's fiddlier, assuming you can't find an RAF hat. Mind you, if you are bald, you only need to half-finish a big bite of spaghetti and you're an Ood, so let's not linger on the negatives.
2: Coat. This is the thing I was talking about. You find a Captain Jack coat, you ARE Captain Jack. You could wear a Teletubbies costume underneath and you'd still look like Captain Jack. For the record, it's a grey-blue RAF greatcoat, ankle-length, with brass buttons and a belt. It's the kind of coat you could live in, if you crash landed behind enemy lines in the wilds of Poland and had to try and walk to London. Get this bit right, the rest is coasting.
3: Shirt – dark, preferably blue. You can also go for a lighter blue, but the essence of Jack's look is that he's in a uniform, and one which would be recognised as such by people during the Second World War.
4: Trousers – black. The sort of utilitarian trousers you'd wear if you were a clerk in a shop, not chosen for their close fit or quality of cut. Captain Jack rocks a very utilitarian wardrobe. And he makes it look good.
5: Shoes – work boots, work shoes, something practical and laced-up and again, potentially old.
6 : Accessories – suspenders, a hand-gun in a belt holster (not a cowboy belt holster, obv), brilliantly white teeth. If you do not have brilliantly white teeth, cut up a plastic cup. The teeth are very important.
And there we have it, unless you want to unbutton your shirt, smear dirt all over yourself and go as the Captain Jack that got killed every day for a year by the Master.
Also: show BBC America your best cosplay photos for a chance to win Doctor Who prizes! Enter here!
Also: Find out how to dress like the real-life John Barrowman.
Next: How to dress like Martha Jones
Read More
Filed Under: