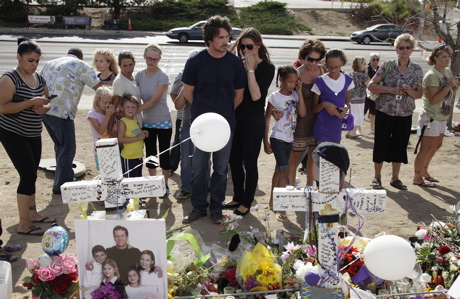 With little fanfare, actor Christian Bale visited Aurora, Colorado yesterday, meeting with survivors of and first responders to the attack that killed 12 and injured 58 people during a screening of The Dark Knight Rises.
Bale, who plays Batman in the movie, spent about two-and-a-half hours at the Medical Center of Aurora, where he met with seven wounded patients, the hospital's acting president, Bill Voloch, told the Denver Post.
"The patients were really happy to meet Bale," Voloch said. "They are obviously big fans of his movies. They wanted to see Batman and were really pleased to see Bale."
"He just said he wanted to come to thank all of us because he has been thinking about this," said Janie Bowman-Hayes, an administrator at the Medical Center's sister hospital. "He knows the whole world has been thinking about this. He took it upon himself to come and thank us."
Bale, accompanied by his wife Sibi Blazic, also went to the makeshift memorial that has sprung up near the theater that was showing The Dark Knight Rises. "Many people there didn't realize who he was," wrote the Associated Press, "or chose to leave him alone."
Bale also met with Colorado Governor John Hickenlooper, according to the Denver Post.
A spokesperson for Warner Bros. Pictures, which produced The Dark Knight Rises, said that Bale had decided to make the visit on his own and was not representing the studio.
Before his visit, the actor had issued a written statement expressing his sympathy to Aurora.
"Words cannot express the horror that I feel," he said. "I cannot begin to truly understand the pain and grief of the victims and their loved ones, but my heart goes out to them."
Read More
Filed Under: