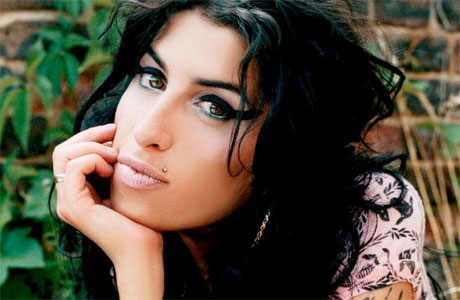 When a beloved musician is no longer with us, the temptation is to preserve their work in amber, in honor of their memory. The hit songs are no longer emotional machines in their own right, they're museum exhibits with fragile cogs and unoiled bearings. Something to be wondered at, but not engaged with, in case crucial parts fall off.
This process is even more pronounced when the artist in question left only a small body of work behind them. Amy Winehouse, for example, recorded only two albums, one good, one astonishing, and then effectively disappeared into a tabloid vortex. So, to remove the veil of familiarity for a second, in order to catch a glimpse of her full power as a singer and songwriter, here are five of her songs given the full workover (VERY full, in some cases) by other artists, and five songs by other people that Amy made her own.
Let's start with that, shall we?
"Will You Still Love Me Tomorrow"
This Shirelles song, written by Carole King back when she was a songwriter-for-hire, has always been exposed and raw, an internal, private monologue about the morning after, set in middle of the night before and made external for all the world to eavesdrop upon. Most of the lyrics on "Back To Black" work in exactly the same way.
"Hey Little Rich Girl"
A late-period Specials song, set to an infectious Caribbean beat, and detailing the downfall of a well-heeled socialite in much the same fashion as Dylan's "Like A Rolling Stone" (except far more gleeful). Amy's version is remarkably faithful to the original, and is one of a handful of Specials-related songs she covered onstage. Speaking of whom…
"You're Wondering Now"
Here's Amy cutting it up with the band onstage at Glastonbury 2009, on a live version of  their 1979 cover of the Andy and Joey vocal version of a Skatalites instrumental from the early '60s. Talk about an Olympic relay!
"To Know Him Is To Love Him"
Written by Phil Spector, with the title taken from his father's gravestone, the original was a doo-wop staple, performed by the Teddy Bears and covered by everyone from the Beatles to Dolly Parton, Emmylou Harris and Linda Rondstadt. Amy's version drops the close harmony work and goes straight to the raw meat of the things.
"Cupid"
It's tempting to draw a parallel between Sam Cooke and Amy: both singers of no small power who wrote and sang massively popular pop songs, and ultimately were (at least in part) responsible for the velocity at which they left the planet. But the one true point of comparison is the authority which which both singers deliver their songs. Even when the songs themselves are as relatively lightweight and frothy as this.
And here are five of Amy's songs, covered by other people…
"You Know I'm No Good"
Ah, the Arctic Monkeys, always on hand to lend a bit of indie gravitas for those cloth-eared buffoons who think a song is only really worth anything if performed by skinny young men with guitars. Not that they do a bad job of it, Alex Turner being more than capable of delivering Amy's self-lacerating asides with the right amount of cold disdain.
"Back To Black"
And if the Artics are a bit too pop, there's always Elbow and their magnificent cathedral of sound. Where Amy's original is a mess of leaked fluids on an already grotty carpet, Guy Garvey's chorister purity elevates the tale to the level of a Biblical epic, in which Amy is an accursed leper, praying for salvation.
"Just Friends"
http://www.youtube.com/watch?v=Sb73vVbbCF4
Not that there's anything wrong with pop. Here's Saint Etienne nicening up a song from Amy's first album "Frank," from a recent Q magazine cover CD.
"Love Is A Losing Game"
And from the worthy artist end of the table comes gravel-voiced James Morrison. This song was the true sleeper hit of the "Back To Black" album, being overshadowed at first by "Rehab" and then the title track and accompanying voguish Motown soundalikes. Now the dust has had a chance to settle, the song has taken on the status of cautionary moral message at the end of a bleak fable.
"Rehab"
Oh Glee, how little must you think of music, if you're prepared to tack a bizarre choral ode to Ohio on the front of Amy's most iconic pop moment. And then speed that moment up, to make it perkier. Never mind that the song is about refusing to attend treatment for alcoholism, and learning lessons in addiction from Ray Charles, so long as there are regionals to win, any song can be bent out of shape and into service.
Read More
Filed Under: