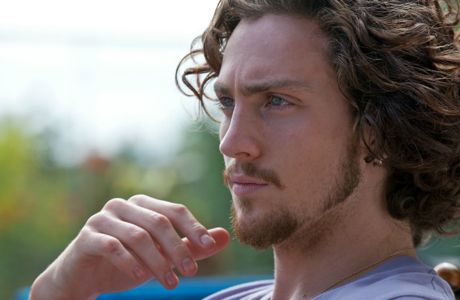 There's nothing like starting early. Aaron Johnson just turned 22 last month but he is already married and the father of two young daughters. He also happens to be one of England's fastest rising male movie stars.
He has the same fine-featured good looks that earlier propelled fellow Brits Jeremy Irons and Jude Law to stardom, plus a soulful stare that's all his own. That stare is on display, often along with his sinewy naked or at least shirtless body, in Savages, the steamy, Oliver Stone-directed crime thriller that landed in theaters July 6.
In the movie, Johnson plays a successful young drug dealer who's involved in a passionate romantic triangle. When a spoiled rich girl (Gossip Girl's Blake Lively) – she's the one with whom both Johnson and his hunky business partner (played by Friday Night Lights' Taylor Kitsch) are shacking up – is kidnapped by a Mexican drug cartel, the two besotted beaus plot to free her.
Noel Coward's Design for Living, also about a ménage à trois, this ain't. While Savages is pulpy fun and chock full of twists and turns, it's not for the squeamish, given its frequent scenes of violence and bloodshed. Unlike some of the Stone's other films, such as Wall Street or Nixon, this one lacks substance; it's not really about much other than showing what a dirty and nasty business the drug trade can be.
Neither Lively nor Kitsch register as much more than walking mannequins, and Johnson is stuck playing the sensitive guy who's prone to throwing up after he shoots someone. The juiciest roles in the movie all belong to the veteran actors in the cast: John Travolta has a showy role as a gleefully corrupt DEA agent; Benicio Del Toro is highly amusing as a sleepy-eyed but sharp-minded enforcer for the cartel; and Salma Hayek has her best movie role in years as a tough-as-nails drug lord.
What Johnson does demonstrate in Savages is range. He plays a laid-back, longhaired California surfer who hopes to save the world when he's not selling drugs. The role is a solid stretch from his confused, adolescent John Lennon in Nowhere Boy (2009), the role that first brought him major notice, as well as his teenage would-be superhero in Kick-Ass (2010) and calculating Irish Lothario in Albert Nobbs.
His screen time in Savages will doubtless serve to raise Johnson's profile in the U.S. In the U.K., he is already a tabloid fixture.
Much of his notoriety in England is tied to his romance and recent marriage to Sam Taylor-Wood, a British photographer and director who is 23 years his senior. Johnson and Taylor-Wood exchanged vows at the posh Babington House in Somerset, England on June 21. (Elton John was a guest at the wedding and serenaded the duo).
The two began their relationship after Taylor-Wood cast Johnson in Nowhere Man, her debut film. Romance and then parenthood quickly followed; daughter Wylda Rae is now two and daughter Romy Hero was born in January. (Taylor-Wood has two older daughters from her previous marriage, to Jay Jopling, a London art dealer and gallery owner.)
Johnson has said in interviews that their families are happy for the couple, and that's all that matters. As for tabloid stories about the duo's relationship and their age disparity, he said in a 2010 interview in The Guardian, "I don't read any of it, and neither does Sam. It's just bulls—. We never tried to hide anything, because we knew if we did there'd just be more interest. We're together, and that's it. Now shut up and f— off!"
The actor next stars alongside Keira Knightley in Anna Karenina, which opens November 9 in the U.S. (and on Sept. 7 across the pond). He plays Count Vronsky, the dashing Russian cavalry officer for whom the title character leaves her marriage. Joe Wright (Pride & Prejudice) directed and playwright Tom Stoppard adapted Tolstoy's 19th century novel.
Johnson is also scheduled to reprise his Kick-Ass role in a sequel that begins filming this fall.
———————————
When did you first become an Aaron Johnson fan?
———————————
Read More
Filed Under: