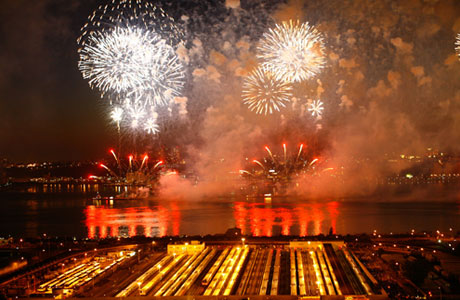 Until I moved to Los Angeles I was only vaguely aware of "the Fourth", and I'm sure there are plenty of Brits new to the U.S. who know little more than the fact that it's a big public holiday and has something to do with the war against the British. But what does it celebrate, exactly? And what happens on the day?
Well, as any school kid will be able to tell you, the Fourth of July is Independence Day, which celebrates the adoption of the Declaration of Independence on – you guessed it – July 4, 1776. That was the day when the first thirteen U.S. colonies (Delaware, Pennsylvania, New Jersey, Georgia, Connecticut, Massachusetts Bay, Maryland, South Carolina, New Hampshire, Virginia, New York, North Carolina, and Rhode Island and Providence Plantations) officially declared their freedom from the U.K. and her Empire.
Once you arrive in America, you'll quickly find that July 4 is one of the biggest holidays on the calendar. Here in Los Angeles for example, there are three straight days of concerts at the legendary Hollywood Bowl, and aside from the customary fireworks, classic songster Barry Manilow – plus a nightly special quest – is performing with the Los Angeles Philharmonic Orchestra.
In the U.K., fireworks really only come into play on November 5 (try explaining Guy Fawkes to an American), and in many places in the U.S. they're actually illegal to buy. But come July 4, no matter where you are in the country – at one of the many outdoor events, parades, fairs, picnics, carnivals or simply munching burgers and enjoying apple pie at the obligatory "cookout" – fireworks will definitely be there, cracking and banging away all night. If you can't make it outdoors, the Macy's department store presents a major annual fireworks display over the Hudson River in New York City, an event that will also feature performances from the likes of Katy Perry. It will be televised on NBC.
One of the biggest concerts is "A Capitol Fourth," a concert and fireworks display that takes place on the Capitol lawn in Washington, D.C. This year, stars performing include Matthew Broderick, country singer Josh Turner, retro kings Kool & The Gang, tenor Russell Watson, the National Symphony Orchestra and movie composer John Williams, who will conduct a performance of his "Olympic Fanfare."
Around 500,000 people attend in person, but it's also broadcast live on PBS television, while elsewhere around the country there are major displays in Chicago, San Diego, Boston, Detroit, St. Louis and San Francisco. No matter where you go though, you'll probably hear some American music favorites: national anthem "The Star-Spangled Banner", "God Bless America", "America the Beautiful", "This Land Is Your Land" and, depending on where you are, "Yankee Doodle" (Northeastern states) and "Dixie" (Southern states).
Needless to say, it's one of the busiest (and craziest) days to travel, so many people opt for an outdoor barbeque, and whether it's on a tiny balcony, a small yard or a huge estate, someone will be grillin', beers will be chuggin', and stars and stripes flags will be flutterin' loudly and proudly for everyone to see.
Brits tend to find such jingoism a bit much, but Americans are super-patriotic on this day of all days, and there's no better opportunity to get to know your new country. Sure, historically July 4 isn't a cause for celebration for the U.K., but now you're here you may as well dive in and enjoy it!
Finally, a word about cookout etiquette. If you're asked along, bring beers (and a designated driver!), plus a side dish such as baked beans, corn on the cob, potato salad, deviled eggs, brownies or pie.
How will you be celebrating the Fourth of July? Tell us below:
Read More
Filed Under: