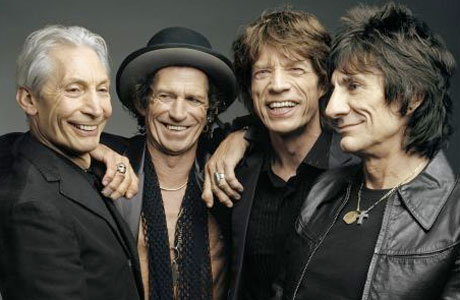 Now, before anyone attempts to blow out the impossible wall of fire on the cake, we are going to pause for a moment, and attempt to summarise the adventures of the Greatest Rock 'n' Roll Band In the World, the piratical gang of suburban bluesmen from the foggy streets of Olde Londone who reintroduced America to the blues, the second most astonishing band of the '60s, in one measly blog post.
Which naturally means leaving out a lot of the finer details. And when I say 'finer details' I mean 'key moments in the band's history, both musical and actual.' But hey-ho, let's press on and see what happens, shall we?
Let's start before the beginning.
The British beat group explosion of the '60s can be put down to four key factors:
1) The baby boom – a sudden wave of babies born in latter years of the war, all reaching early adolescence just in time for…
2) Rock 'n' roll – the first exposure British society had had to the feral excitement of rhythm and blues, made all the more thrilling when crossed with country, and sped up. But how could a ration-book society of keen amateur rockers hope to compete? Enter…
3) Skiffle – the folk songs of Leadbelly and Woody Guthrie, popularized by Lonnie Donegan, and played by street corner groups all over the country. One cheap guitar, maybe a banjo, a tea-chest bass and a washboard, and you can entertain the entire neighborhood. And they would need it because of…
4) Rationing – everything was in short supply, and had to be made to last. Colorful, disposable luxury was hard to find, and this was fine for a generation used to the privations of war. But the baby boomers wanted more, and needed to escape the horrors of their parents' war stories. As the whole of Europe was in a state of rebuilding and flux, and Britain was in a period of full employment, they could suddenly write their own rules.
Enter the Rolling Stones, who had been individually turned on to the blues and R'n'B by Chuck Berry and Jerry Lee Lewis, and begun digging deeper, into the songs of John Lee Hooker, Howlin' Wolf and Muddy Waters. They found kindred spirits among London's tiny blues community, appearing at open-mic slots to gain some experience. Brian Jones decided they should form into a band, and they started gigging.
Once the Beatles had taken off, the hunt was on for another bunch of irreverent long-hairs with a fetish for black music, and the Stones (quite nice boys really) took the role of devilish southern antidote to the Fab Four's angelic northern charm. Here they are in 1964, being all sexy and shambolic:
Of course, you can't carve a career out of cover versions of other peoples hits, especially when those people are quite happily having the hits themselves, thank you very much. So after tapping Lennon and McCartney for a song, and realizing that it's perfectly possible to write your own, Jagger and Richards settled down in a locked kitchen, and started writing. At this point, despite still being enthralled by the blues, they were drawing influence from soul, pop, folk and country, and began writing a bunch of smart, socially aware songs with biting lyrics.
(Incidentally, Mick Jagger never really gets his due as a lyricist, but he's easily as good as his peers, with the possible exception of Lennon, Ray Davies and Bob Dylan. You may wish to make a note of this.)
Where were we? Oh yes, the singles years. This one's not bad:
There was a momentary blip: as psychedelia reared its plumed and feathery noggin, the Stones gamely attempted to play along, recording astonishingly languid songs like "2,000 Light Years From Home" next to Bill Wyman-written nonsense like "In Another Land" without seeming to be able to spot the day-glo wheat from the strobascopic chaff. As with a lot of groups, they appeared to be acid-dazzled.
According to Keith Richards' book Life, this spell was only broken when he discovered the five-string guitar tuning that dominated the next phase of the group's work, during which they toughened up their sound, re-discovered their love of American roots music, and re-commenced rocking (with and without Brian Jones, who died in 1969). It's this phase that the group's current reputation is entirely built upon. Everything from "Beggars Banquet" to "Exile On Main Street" feeds the idea that this is an unassaible unit of astonishing power, who can do no wrong.
Of course, this version of events only brings us up to 1972, a mere ten years out of the full fifty. And in actual fact they continued to record new material with the same fire and fervour of old, albeit without that imperious sense of total infallibility. Their tours got bigger and more bizarre, as they reaped the rewards for all their hard work, and Keith Richards developed a few unsavory habits that kept their bad boy reputation alive in the press, even while Mick was off dining with royalty.
They even survived the twin perils caused by the late '70s arrival of punk rockers and disco, by dressing like the former and strutting like the latter.
By 1982, the band had settled into a groove, recording patchy albums with astonishing lead-off singles (you can't really argue with "Start Me Up" or "Undercover of the Night") and then heading out on tour once again. However, their equilibrium was knocked by Mick's decision to embark on a solo career, which annoyed Keith so much, the two men could barely speak for most of the '80s.
This was rectified in 1989, and the band once again toured a less-than-perfect (but still pretty good) new album "Steel Wheels." This was followed five years later by "Voodoo Lounge" (album and tour), then three years after that with "Bridges To Babylon" (album and tour). Then there was another hiatus, of some eight years, until 2005's "A Bigger Bang" arrived. And of course, they celebrated its arrival with another enormous tour.
Not that these are unworthy albums. Given a decent headwind, the band can still turn their hand to writing great songs, it's just by the time they'd been going for 40 years, the weight of cultural expectation on them was so great, they had to play all the hits, or risk letting their fans down. But there's no reason "Rough Justice" should be treated any less favorably than, say, "Mixed Emotions"
And only yesterday, Keith Richards was telling the BBC that the band were rehearsing once again, ready to do something (which will probably look a lot like an album and a tour. Or possibly just a tour).
Whatever it is, enjoy it while you can. The unique circumstances into which the Stones were born are long gone, and their generation are way past pensionable age now. These things can't happen again. The band have had to put up with zimmer frame gags since 1972, but the time is fast approaching when they simply won't be able to do what they do, the way they want to do it.
So, 50 years of rocking hard, rolling wide, and leaving a trail of elegant chaos in their wake. Who's going to help me with these candles?
Read More
Filed Under: