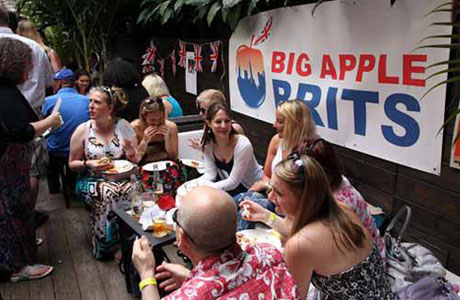 So you've arrived in the U.S. and are trying to get to grips with everything. It can be overwhelming, and you've probably left family and friends back home. Forget visas and work for now: there's the immediate problem of trying to find a decent pint of beer, a friendly face and perhaps even a few home comforts.
1. Ask Around!
Especially early on, it's perfectly normal to home in on someone speaking with an English accent like a rabid Golden Retriever. Also, people often mention that they have an English/Scottish/Irish/Welsh friend or relative – they usually lump all those countries in together – and that you must meet them. They might also ask if you already know them.
2. Google
It's no surprise that t'internet is a massive resource for expats. Just Google "Brits in (city name)" and you should be up and running (see Big Apple Brits and BritsinLA), but there's also MeetUp.com and BritishExpats.com to connect you with other Transatlantic Transplants.
3. Sharing The Love
Many Americans are just crazy about the U.K., and Anglophile websites like BBC America.com's Anglophenia and Anglotopia.net will supply you with Brit news, TV gossip, Brit movie reviews, royal tidbits and many more things that – until you left Blighty – you always thought you wouldn't be interested in. (And you'll likely find like-minded compatriots.)
4. Message Boards
A good resource before, during and after your U.S.A. experience are message boards like BritsAbroad.com – many people have taken this path before you. There, you can find out the answer to countless questions and ask some yourself.
5. On Facebook and Other Social Media Sites
A wander around Facebook and Twitter will always dig up some gold. No matter where you are, they'll be a group or fan club for your U.K. soccer team, obscure sport, hobby or favorite BBC TV show. They'll know exactly how you feel and will offer a warm welcome.
6. At The Pub!
Ask most Americans where you'd find other Brits, and they'll inevitably say: "the pub." There's some truth to this, and in most big cities there will be some Brit pubs – or certainly Irish ones – where you can go for a few drinks and not feel like you should be in AA. Some will probably show U.K. soccer matches too, and, as a Los Angeles resident, I usually go to Hollywood's most famous pub, the Cat & Fiddle; it was opened by '60s Brit rocker Kim Gardner and features scotch eggs on the menu.
7. At Your Local Specialty Food Store
Every Brit hankers after a certain tea or chocolate bar, and there will be a specialty store somewhere near you – often Irish-themed – where you can pay exorbitant prices for them. I can't live without my PG Tips, and I've noticed that now even some bigger grocery stores like Ralph's have started to stock Brit fare. Failing that, Google what you want and where, and you should be in luck. Anyone who's picking up Hob Nobs or a Cadbury's Dairy Milk is likely to be from Blighty.
8. On the Bus/Subway
L.A. is a slave to the automobile: new arrivals will have to get used to horrendous traffic, elusive parking and valets – and their bus and underground is less than perfect. In other cities though, public transportation is a much better option. With a bit of preparation and pinch of confidence it can be a useful way to get to some top places, and since Brits are more than used to traveling this way, you're more likely to run into some on the way to work or en route to a big night out.
9. At The Museum
The U.K. is blessed with serious museums, but forget all the clichés about U.S.A. having no culture: there are plenty here too. Start by exploring MuseumsUSA.org for places in your area, and for something more obscure and downright weird, try roadsideamerica.com too. To find an expat, visit when there are U.K.-centric exhibitions on show, or if you're in one of the strange museums, look for the people with raised eyebrows who are shaking their heads in disbelief.
10. On The Field
If you fancy playing soccer there are plenty of teams almost everywhere, and they are often a homing beacon for Brits who want a kickabout. Rugby can be found too, but if you want a game of cricket, that's a little more difficult. Here in L.A., the Beverly Hills & Hollywood Cricket Club is a team of jocular Brits — including me — who play in the social league. Enthusiasm and a sense of humor are as important as talent, so if you fancy a game, give me a shout!
See also: how to make the leap and starting making American friends.
Where's a surprising place to find fellow Brits? Tell us below:
Read More
Filed Under: