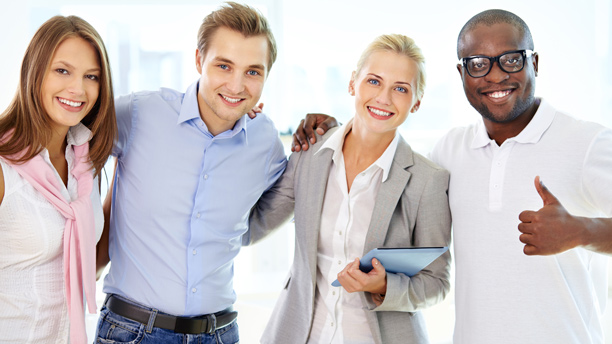 Want to avoid a lot of long nights sobbing into TV dinners for one? Here's how to make fast friends in America.
1. Get baking
It's written in our DNA (or if it's not, it should be) to like people who give us food. But if you're going to spread the edible love, make sure your wares have a high sugar or fat content. No one ever got popular at work by handing out brown rice cakes.
2. Join a book club
No doubt the idea of arranging to hang out with strangers makes your skin crawl. But you might want to get over that. No one's suggesting you sign up for tickle parties or swinging sessions, but you've read books, right? So why not discuss them with other people in your locale?
3. Get a dog
Parade about with a handsome pooch at your side, and you're guaranteed a conversation for every block walked or poop scooped. These encounters tend to occur when your dog decides it wants to sniff at someone else's. While this nose-fest plays out, the two owners become locked in an awkward chat. So long as the canines stay cordial, you might find that you make friends this way.
4. Get chatty in bars
In America, it's perfectly acceptable (i.e. not at all stalky) to befriend your co-drinkers. Lots of people seem to sup alone here—usually at the bar. Very few will shun your social advances, especially if you're buying.
5. Ask for introductions
Have your friends e-introduce you to people they know in your new city, then arrange to go on "mate dates." Alas, like normal dating, this process can be intense, awkward and embarrassing. But bear this in mind: for every 10 lunatics and sociopaths, there'll be at least one keeper.
6. Join expat groups
There will be days when you'll want to surround yourself with comforting British things. When this happens, find BBC Radio 4 on iPlayer, take deep breaths near an open jar of marmite and sign up to expat forums. Some, like britishexpats.com, advertise meet-ups.
7. Never turn down an invitation
Not even if it's from the bloke in the ad sales department who smells like deli meat. He might have less aromatic friends. But be warned: when Americans say, "Want to hang out?" it could be a come-on — or a call to platonic friendship. Be sure to clarify.
8. Join a gym
If you don't mind befriending folks you've seen without any clothes on (Americans seems to have far fewer locker room inhibitions than Brits), sports clubs are a way to go. It's astoundingly easy to have a laugh and a joke with naked people who are gasping for air. Though, you might want to wait until they get dressed before you suggest going for a drink.
9. Talk to your neighbors
Always try to be on good terms with the folks who live upstairs, downstairs and either side of you. You'd be surprised how quickly a relationship that starts out as curt head nodding in communal areas can morph into beautiful, beer-swilling comradeship.
10. Have a baby
Don't worry: I'm not suggesting you should do this unless you were considering it anyway. But getting pregnant is a gateway to meeting other spawning folk. And when your bundle arrives, there will be mommy groups, play-dates, jungle gyms and chance encounters in the emergency room.
Join us at @MindTheGap_BBCA on Twitter Wednesday, October 8 from 2 to 3 pm ET for a discussion with About.com friendship expert Cherie Burbach (@brrbach). Submit your questions about socializing in America using hashtag #MindTheChat.
How have you made new companions in an alien land? Tell us below:
Read More
Filed Under: